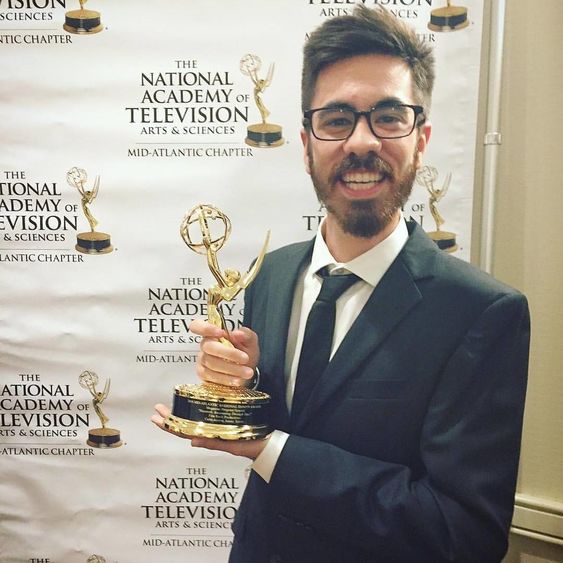 Penn State Lehigh Valley corporate communication student Carlo Acerra won an Emmy from the National Academy of Television Arts & Sciences Mid-Atlantic chapter on Sept. 24 in Philadelphia. Acerra, of Bethlehem, Pennsylvania, won in the Magazine Program/Special category for his editing work on FireRock Productions' "Nazareth: Resonating Through Time."
The program explored the history of Nazareth, Pennsylvania, weaving together the tunes of guitars and cars to the current life in Nazareth today. The piece aired on Lehigh Valley TV in April. Lehigh Valley TV airs at 6:30 p.m. every Sunday, on RCN and is online at lehighvalleytv.com.
When Acerra started working for FireRock Productions in 2015, the piece was partially done, but still needed post production work. Acerra contributed by working on some of the graphics and movement of the historical photos during the piece. He used digital parallaxing to separate the subject of the photos from their background and bring them to life.
"I am so grateful to be a part of such a talented team while so young. I feel incredibly fortunate to have found the people at FireRock who give me many opportunities to try to creative ideas and help me to learn such a tremendous amount," said Acerra. "I have found that I learn best by fully immersing myself in something and putting all of my effort into it. I feel like this recognition validates my choice to start working full-time while still in school."
While Acerra has only taken classes at Penn State Lehigh Valley part-time for one semester, he said he appreciates the flexibility and the relationships with professors.
"I have found the faculty to be really genuine and helpful. For example, Corporate Communication Program Coordinator Robert Wolfe has gone to lengthy measures to help me succeed and really seems to care about each student's success," said Acerra.
Contact
Dennille Schuler
Public Relations Specialist
Penn State Lehigh Valley