Program supports entrepreneurs with micro grants and mentorship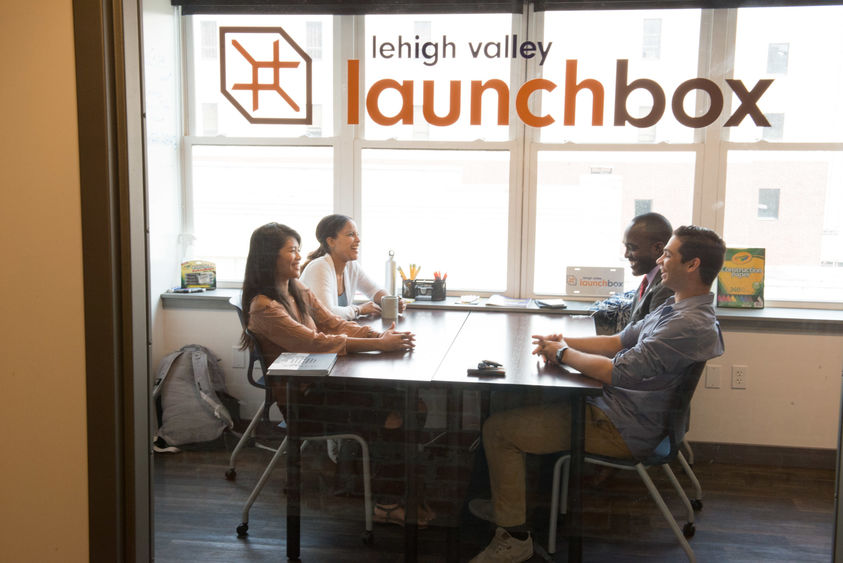 The Executive Committee of the Advisory Board of Lehigh Valley LaunchBox, a University and community sponsored business accelerator program for early stage entrepreneurs, approved and announced $20,000 in micro grants to 16 projects for its second award cycle.
Applications were submitted over a three month process. The process yielded a diverse mix of Lehigh Valley community entrepreneurs, Penn State students and faculty.
"We continue to be impressed and excited by the unique concepts and products submitted to Lehigh Valley LaunchBox," said Tina Q. Richardson, chancellor of Penn State Lehigh Valley. "Our campus and the Advisory Board of Lehigh Valley LaunchBox remain committed to encouraging and supporting entrepreneurship throughout the Lehigh Valley."
The Lehigh Valley LaunchBox 2016-17 portfolio consists of awards ranging from $1,000 to $3,000.
The companies and projects to receive funding include:
Andromeda LED Lighting, LLC, a company that carries a wide array of high-quality, high-power, high-efficient LED lighting products, and a design house for innovative lighting designs. The company also has several patents on LED packaging and LED lighting applications from the United States, Taiwan and China.
Team: Tai-Yin Huang, Tseng-Bao Sun and Jefferson Huang
Cake•This: The Original Spoonable Cake, this packaged dessert product is a homemade baked cake mixed with buttercream frosting combining favorite flavors. It provides the perfect bite of cake every time and is stylishly packaged so that it is resealable.
Team: Ashleigh Thurston and Ethan Frohman
Eric Oh, DJ and party planning services for a diverse group of clients and various events. It will mainly operate in State College, Pennsylvania where there is significant demand for a DJ for collegiate events.
Golden Lion International, LLC, an export/ import company focusing mainly on rice from Thailand and Vietnam being shipped to Burkina Faso and Kenya, Africa.
Team: Nicholas Miller
GreekPillar LLC, software solutions to help manage, streamline and enhance fraternity recruitment.
Team: JJ O'Brien and Greg Potter
The Integrated Energy Solutions for Entrepreneurs (IESE), has continued developing and researching energy solutions to address real-world problems in the areas of green energy and LED light applications. After receiving funding in the first round, IESE procured valuable equipment to allow the team to work on their projects ranging from powering LEDs using solar energy, LED lighting for horticulture, circuit design and software development for data transmissions using LEDs, and using 3-D printers for prototyping.
Team: Tai-Yin Huang, Ph.D., Harold Scholz, Ph.D., Richard Martin, Robert Wolfe, Kasey Hudak, Ph.D.
Lifestyle Apparel Brand, high-quality clothing for off-road Jeep enthusiasts with a variety of styles.
Team: David Frederick
MyExcelGuy, training on Microsoft Excel along with Excel services for businesses including: report development, spreadsheet repair, data formatting and cleanup, data retrieval and graphing and charting.
Team: Brian Blickensderfer
RA Shoes, Adjustable orthopedic shoes for Rheumatoid Arthritis patients. Developing a product with rigorous scientific backing to address a population with needs unmet by current orthopedic footwear and orthotics. RA Shoes development process focuses on clinical testing, computational biomechanics and human centered design.
Team: Patrick Zager, Lulu Wang, Tianhan Zhang, James Fish and Zachary Port
Sarah Murrat, A skincare line entirely based on natural ingredients, free of synthetic ingredients. The range of skincare products are made from a selected blend of naturally derived ingredients that have caring and effective qualities.
Sprout, LLC, Researches the use of high intensity LED lighting to improve flower induction and secondary plant compound production for indoor horticultural production.
Team: Tim Marks, Karen Kackley, Ph.D. and Pamela Borowski
South Mountain Medical LLC, seeks to commercialize a portable semi-autonomous peripheral IV catheter placement device. The device will increase the likelihood of successful IV catheter placement and will reduce the use of more invasive fluid delivery methods by paramedics in a prehospital setting.
Team: Nick Hirdt and Peter Schwarzenberg
TAPP Inc., app development for ease of fundraising campaigns and monetary donations.
Team: Chris LaBonge
Tera by Air Releaf, An aesthetically designed plant container that simplifies plant care, while enhancing the plant's natural air purifying capabilities. Air Releaf inspires customers to add nature to their homes in order to live healthier and happier lives.
Team: Erin Sowell and Devon Dowd
TroubleMaker, LLC, children's toy company that promotes inclusivity and collaboration through education and open-ended play. The first product, ZYX Sticks, is a wooden building set and learning tool used to create abstract structures without instructions.
Team: Shannon Varcoe
True2Air, Internet of things (IoT) platform consisting of intelligent nodes and software that addresses needs of specific companies and industries.
Team: Raj Nukala
"These 16 new projects will join the 13 established businesses as part of Lehigh Valley LaunchBox," said Bill Hacker, chairman of Lehigh Valley LaunchBox Advisory Board. "We look forward to mentoring and assisting the team members as they develop these projects into sustainable businesses."
The proposed projects were evaluated according to the criteria below. The progress of grant recipients will be regularly reviewed by an advisory committee of LaunchBox.
The selection committee searched for these characteristics in applicants:
scalable business model
team commitment
technical readiness
market awareness
existing or potential intellectual property
connection to community engagement
All completed applications were scored in the following categories:
business plan readiness
technical readiness
customer/market analysis
leadership team development
intellectual property readiness
existing funding
The Lehigh Valley LaunchBox program will continue to award micro grants to proposals in future award cycles. All Lehigh Valley community members, including high school students, and Penn State faculty, staff and students who have a scalable business idea are encouraged to apply for affiliation with Lehigh Valley LaunchBox.
Micro grant recipients benefit from free co-working and meeting spaces at Velocity (532 Hamilton Street, Allentown); professional development, consultation and research resources, mentorship from local entrepreneurs and Penn State alumni will also help with business planning.
Lehigh Valley LaunchBox is a signature program of the Invent Penn State initiative and was created in collaboration with community and University entrepreneurship supporters.
In 2015, the following six campuses received seed grant funding to develop entrepreneurship programs in their campus communities: Abington, Abington LaunchBox; Erie, the Behrend College, Innovation Commons; Harrisburg, Center for Innovation and Entrepreneurship; Lehigh Valley, Lehigh Valley LaunchBox; New Kensington, the Alle-Kiski Economic Generator; Wilkes-Barre, Entrepreneurial and Business Development Lab.
In June, Penn State announced the awarding of six additional $50,000 seed grants to Penn State campuses, bringing the number of Commonwealth Campus centers funded by Invent Penn State to 12. These include Altoona, Innovation Incorporated; Berks, Center for Entrepreneurship and Business Development; Great Valley, REV-UP@GreatValley; Schuylkill, Lion Launch; Shenango, VenturePointe; York, MakerSpace & Business Challenge.
The initiative also opened Happy Valley LaunchBox in State College early this year, creating a 13th center.
For more information about Lehigh Valley LaunchBox, visit launchbox.lv.psu.edu or email Faculty Liaison Mike Krajsa, [email protected].
For more information about the Invent Penn State initiative, visit invent.psu.edu.
Contact
Dennille Schuler
Public Relations Specialist
Penn State Lehigh Valley