Cece J's Snacks opens in Allentown with support from Lehigh Valley LaunchBox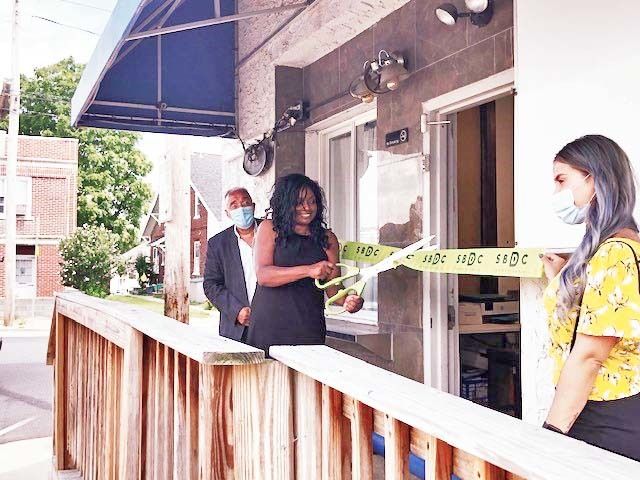 After more than 20 years of working for large companies, Ceceilia Jackson had the confidence to leave the corporate world and follow her love of chips! Jackson recently opened her own business, Cece J's Snacks, with the help of Lehigh Valley LaunchBox.
Jackson pitched LaunchBox in Fall 2018 with her business plan, product samples and packaging that she had developed and received a grant that helped her get started.  Since then, she has expanded to 26 products and has released two of the products in the market — Cocazana Chips and Cinnamon Strawberry Apple Chips — with quite a few more in the pipeline. Jackson has created a line of healthy, preservative-free dehydrated fruits and sweet potato chips, all-natural products with minimum ingredients.
Jackson said she loves potato chips and set out to find creative ways to get food in the body and began her entrepreneurial journey in her kitchen where she taught herself the art of dehydrating. Her business opening was postponed due to the Coronavirus, and her business model blew up. She was planning to target the food service side of K-12 schools, colleges, universities, health care, business and industry, but since schools and food services were shut down, she developed a new business model and turned to traditional retail. Her products are now available in five local stores and through local distributor AndiGrace. Currently, her business is a one-woman show, but as sales continue to increase, she's planning to purchase a larger dehydrating machine and to hire more help. Her goal is to create jobs.
Along the way, Jackson keeps close connections with fellow LaunchBox Grant Recipients Ali Almasi, owner of Zaffrus, a saffron company based in Bethlehem and Cathy Abreu, owner of Navita Health Advocates based in Easton.
"We cheer each other on," Jackson said.
The Lehigh Valley LaunchBox staff has been a wonderful resource to Jackson and connected her with the Entrepreneurial Assistance Law Clinic at Penn State that provided legal assistance on contracts on a quick turnaround when she needed it.
Jackson has participated in expos held in conjunction with previous in-person Lehigh Valley LaunchBox programs at Penn State Lehigh Valley and most recently participated in a new virtual Mastermind program hosted by Lehigh Valley LaunchBox specifically designed for LaunchBox grant recipients. The Mastermind sessions, which focus on a specific topic with featured speakers who are subject matter experts, provide an opportunity for interactive discussion and coaching and are designed to build a network of support so grant recipients can learn from each other. The next Mastermind session is scheduled from 10 to 11:30 a.m. Sept. 11 on the topic of eCommerce.
Chris LaBonge, Lehigh Valley LaunchBox chair, has served as a mentor for Jackson and said he is thrilled that she officially opened her manufacturing facility on Hanover Avenue in Allentown last month.
"Having had several meetings with Ceceilia on efficiencies and equipment since she received her LaunchBox grant, it's great to see Cece J's Snacks getting off the ground," LaBonge said. "Ceceilia has great experience and perseverance and her business is a great boost to the local economy."
For more information on Lehigh Valley LaunchBox, email [email protected] or call 610-285-5208.
Lehigh Valley LaunchBox (LVLB) is an early-stage business accelerator program for entrepreneurs. As a signature program of Invent Penn State, LVLB partners with a network of community and university partners to offer continuing support to small business owners and guides them through every step of their startup journey.
Information regarding the Invent Penn State initiative is available online.
Contact
Dennille Schuler
Public Relations Specialist
Penn State Lehigh Valley