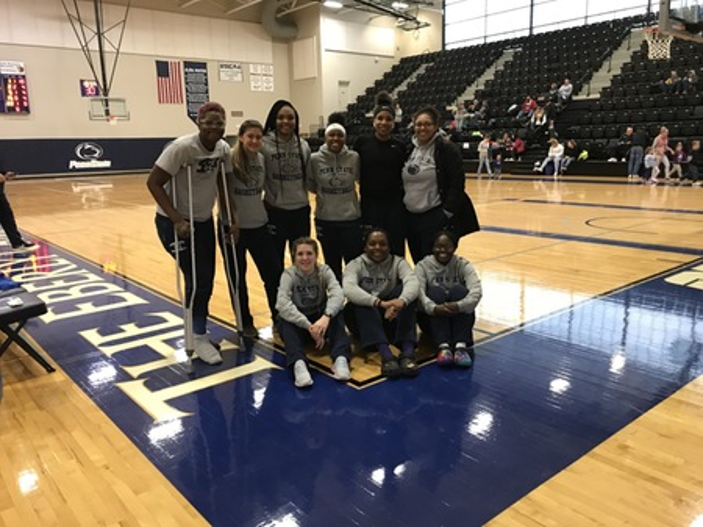 Women's basketball splits in western Pennsylvania trip
The Penn State Lehigh Valley women's basketball team went 1-1 during its trip to western Pennsylvania to face Penn State Beaver and Penn State Fayette on Jan. 24 and 25. On Friday, Lehigh Valley fell to Penn State Beaver 63-57. Ebony Sanders led with a double-double, notching 25 points and 16 rebounds. On Saturday, against Penn State Fayette, the team pulled out a nail-biting 61-58 win. Four players were in double figures, led by Jah'nel Oliver with 16 points, followed by Sanders with another double-double: 11 points and 26 rebounds. Anaya White and Kristin Curry added 11 points each.
Men's basketball drops two on western road trip
The Penn State Lehigh Valley men's basketball team fell to host Penn State Beaver by a score of 73-59 on Jan. 24 near Pittsburgh. Hesro Johnson led the scoring attack with 19 points, while new transfer Demond Farley added 17 points. On Jan. 25, Lehigh Valley fell to Penn State Fayette 66-54. The team again was led by Johnson with 18 points, while Farley chipped in with 16 points and Connor O'Brien added 10 points.
Follow Penn State Lehigh Valley Athletics on Instagram @PennStateLVAthletics and Twitter @PennStateLVAthl. Sign-up for athletic text alerts at http://psulehighvalleyathletics.com/list-signup.