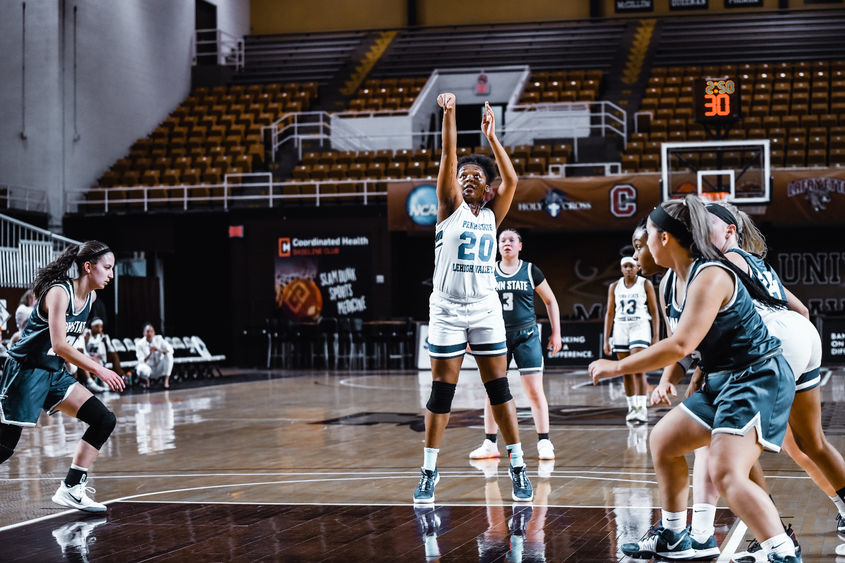 Story courtesy of Penn State Lehigh Valley athletics.
They say a journey of a thousand miles begins with a single step. But for California native and Penn State Lehigh Valley senior women's basketball and volleyball star athlete, Ebony Sanders, it's been a 3,000 mile journey.
The journey began in 2015-16 when Ebony was a senior at Independence High School in Bakersfield, California and her mom, Evette, put together a basketball recruiting profile in hopes of gaining some exposure. This is where Lorie Khalil, head women's basketball coach at Lehigh Valley, first discovered this dominating post player.
"I went onto the recruiting site in hopes of finding a post player. At the universities I previously coached at I always had at least one player from California, so I gave it another shot and fortunate for us I found one of the best post players/people I'll ever have the chance to coach."
Coach Khalil immediately contacted Ebony, and Ebony was a bit shy and reserved. "I called her and it was pretty much like having a conversation with myself. At first she was very shy and did not speak much but her mom, Evette, and her dad, James, on the other hand, now they like to talk. I would talk to her mom the most and we just hit it off. It was this crazy 3.000 miles away connection just from phone convos and FaceTiming. I promised her parents that Ebony will do magical things here and that it will set her up for a lifetime and on top of it she will get one of the best and most reputable higher education degrees in the country and they believed in that vision and trusted that vision."
In August 2016, the Sanders family packed up their car in Bakersfield, California, and drove 3,000 miles, which took them a week, to sunny and exciting Lehigh Valley, Pennsylvania. "It was the first time I ever met her and her family in person, we went out for dinner and again Ebony would not talk much. We were off to a great start." Ebony got dropped off at her off-campus housing not knowing a soul and her parents got back into the car and drove 3,000 miles back to California and the rest is a journey within itself.
Her freshman year, she still didn't talk much for the first month or so of school, but then once basketball season started, it was like a butterfly shedding its cocoon. As the season went on her confidence grew both on and off the court, plus her impact grew on campus and on the court. Everyone knew who Ebony Sanders was, her infectious personality spreading throughout the walls of the Lehigh Valley campus
Each summer Ebony would fly back to California with a goal of being better than the previous year. Along the way, she was challenged to run a half marathon, which at 5' 11" and a body built for short explosive sprints, she finished with a time of 2 hours and 15 minutes. As she continued to grow athletically, she also grew as an individual and wanted to give back, on campus and in the community. Ebony is a student-athlete ambassador for Lehigh Valley Athletics open houses, has worked basketball clinics for youth, is a part of the Lehigh Valley psychology club, volunteered during spring break's "Week of Giving" by helping out at a Food Bank and also stepped up as the Nittany Lion mascot for an event. She is a part of the Penn State Lehigh Valley Black Student Union, serves on the Student-Athlete Leadership committee, visited the Children's Hospital during the holidays and acts as a peer mentor for young athletes struggling during their adolescent years.
For her service and accolades, Sanders was named the 2019 PSUAC John S. Egli award winner. To be considered for the award, a student-athlete must have had a distinguished athletic career, own a minimum grade point average of 3.0, be active in additional campus activities and exemplify high morals, leadership and outstanding character. She was chosen out of 1,500 PSUAC student-athletes.
A psychology major who is also minoring in rehab and human services, Ebony has earned Dean's List recognition every semester since being a student at Lehigh Valley. She was named PSUAC All-Academic three times and USCAA National All-Academic twice. She was also named Penn State Lehigh Valley Student-Athlete of the Year twice.
On the basketball court, Sanders has been one of the most dominating players in the last four years in the USCAA and in the PSUAC. A three-time USCAA All-American, Sanders has reached over 1,000 points and 1,000 rebounds, becoming the first player in Lehigh Valley campus history and only the fourth in PSUAC history. She has led her team to winning records every season, including the 2019 PSUAC Championship and has helped her team earn two trips to the USCAA National Tournament, including the 2018 National Championship game. Sanders was named PSUAC Defensive Player of the Year and PSUAC All-Conference three times and her basketball jersey currently hangs in Women's Basketball Hall of Fame in Knoxville, Tennessee, as part of their "Ring of Honor" display.
On the volleyball court, she led Lehigh Valley to four straight playoff appearances, including the semifinal game played at Rec Hall at University Park. She is a four-time PSUAC First Team All-Conference selection, a Co-Newcomer of the Year and also PSUAC East Player of the Year.
"It is unbelievable how fast these past four years have gone. I have made so many memories and so many life long friends from this chapter of my life it really is such a bittersweet feeling," said Sanders. "I will be forever grateful to be able to say I have been a part of such a competitive and supportive program. I want to thank all of my current and past coaches and teammates for pushing me to always leave it all on the court and thank you Penn State Lehigh Valley for being my home away from home."
"Ebony is an incredible example of what excellence should look like as a student-athlete. Her 100% commitment to student and her 100% commitment to being an achieving athlete is very evident and we are all so proud." Khalil said. "Sanders accomplished all of this being 3,000 miles away from home being from California. She took a risk, a chance to venture into the unknown and four years later she has come out to be one of the best people to ever represent Penn State Lehigh Valley, the PSUAC and the USCAA."