2019 Scholarship Dinner celebrates students, provides opportunity to thank donors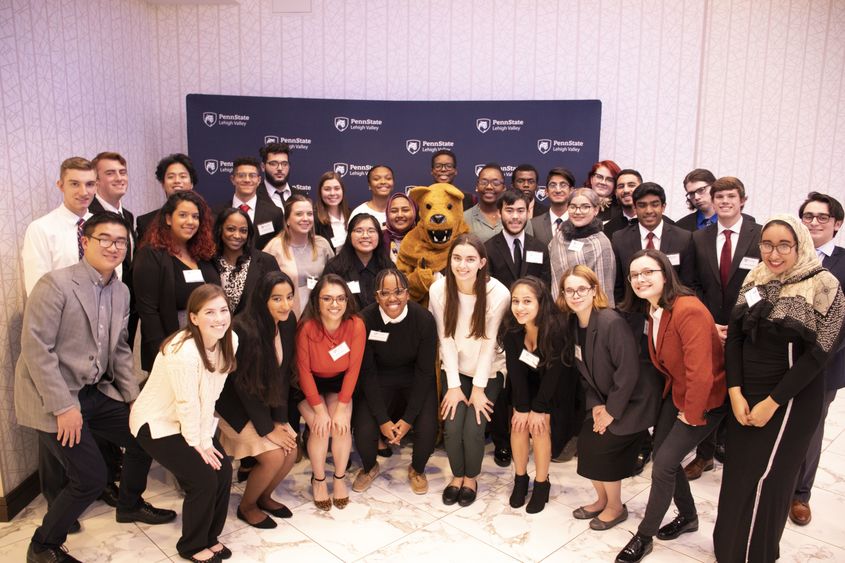 CENTER VALLEY, Pa. — Ebony Sanders attended the Penn State Lehigh Valley (PSU-LV) Scholarship Dinner, held Nov. 5 at the Homewood Suites Centennial Catering & Conference Center, with her basketball coach, Lorie Khalil.
"Without the generous support from donors, many of us wouldn't be in school," said Sanders, a senior psychology major who spoke at the event. Sanders is the recipient of the Eugene and Sandra Slaski Scholarship.
"Coming to Penn State Lehigh Valley has helped me become the respectable and accomplished individual I am today," Sanders said. "I have gotten so much support from professors, coaches, family, friends and also donors." Sanders has won many accolades for her time on the volleyball and basketball courts and for her classroom achievements.
The event, attended by more than 100 students and donors, was held to celebrate students who are recipients of PSU-LV scholarships and express gratitude to the people who donate to PSU-LV scholarships.
Nearly 1,000 students are currently enrolled at the Lehigh Valley campus, and about 70% of the campus' degree-seeking students have a financial need — with only 57% of their need met by need-based aid. 
"Since last year's dinner, student loan debt [nationally] has gone up from $1.4 trillion to $1.5 trillion," said Tina Q. Richardson, chancellor of Penn State Lehigh Valley. "That is an increase of $100 billion in just 12 months. Scholarships ensure more students can find even more opportunities for growth and achievement at Penn State. And both merit and need-based scholarships are important for our students and their success."
Rich Fatzinger, director of PSU-LV athletics, shared why he created the Fatzinger and Haines Open Doors Scholarship with Bruce Haines, managing partner of the Historic Hotel Bethlehem and PSU-LV advisory board member.
"Throughout my life there have been many people who have given to me, and I wanted to continue that cycle. I feel good when I give. I feel like I'm giving myself a gift," Fatzinger said. "Thank you to all of the donors. You are making a difference in the lives of scholarship recipients. And congratulations to all of our students here because you worked hard to earn a scholarship."
"We realize how hard it is to go to school and we are glad to help," said Don and Diana Patt, who created the Patt Renaissance Scholarship at Penn State Lehigh Valley. "We were fortunate to go to Penn State, which is great school. And we feel fortunate to be able to give back. We want to help as many students as we can!"
Tyler Nguyen, a sophomore business major, was the second student speaker.
"I strive to make an impact every day in my work in service through campus clubs and out in the community. I am honored to receive a scholarship. It alleviates the financial stress of college," said Nguyen, who is the recipient of the Rudy Mohr Memorial Scholarship. Nguyen is very active on campus in leadership roles in multiple student clubs and organizations.
Throughout the evening, two students performed musical selections. Sophomore IST major Joseph Raymond played "Goodbye Yellow Brick Road" by Elton John on the guitar. Sophomore engineering major Matthew Holderith later played "In My Life" by The Beatles on the piano.
Karen Kackley, assistant teaching professor of biology, closed the program with remarks about academic scholarship.
"We are training students to solve problems in the future and for jobs that do not exist yet. Our students work at jobs for many hours a week while handling a full course load," said Kackley, who then asked the students in the room to stand if they work 20 or more hours per week. The majority in attendance stood up.
"Scholarships allow students to focus on academic scholarship," Kackley said.
Scholarships are a priority at the PSU-LV campus to help fill the financial need gap and have become an important initiative of the campaign — "A Greater Penn State for 21st Century Excellence." Philanthropic support for Penn State students, faculty, research and programs has always been a part of the University's foundation. With the continued partnership of alumni and friends, Penn State's historic mission to serve the public good, and create a better future for students, the Commonwealth and the world, can be fulfilled. To learn more about the PSU-LV campaign, visit the PSU-LV Giving webpage. 
Diane McAloon, director of alumni relations, served as emcee for the evening. The Scholarship Dinner was organized by the Penn State Lehigh Valley Scholarship Dinner Committee, led by PSU-LV's Enrollment Management Department and the Office of Development and Alumni Relations.
Contact
Dennille Schuler
Public Relations Specialist
Penn State Lehigh Valley