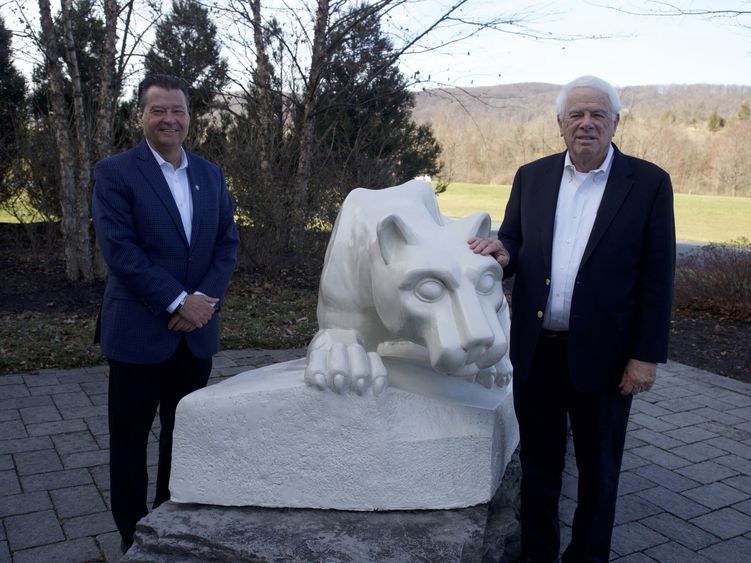 Penn State Lehigh Valley's (PSU-LV) athletic director and a local hotelier have brought their passion for supporting Penn State students together for a newly created joint scholarship.
Rich Fatzinger, PSU-LV athletic director, and Bruce Haines, managing partner of the Historic Hotel Bethlehem and PSU-LV advisory board member, have joined forces to endow an Open Doors Scholarship in support of Penn State Lehigh Valley students. Through the recently concluded Open Doors Scholarship Program, the University matched their joint $30,000 gift 2:1 to endow the fund at $90,000.
Fatzinger and Haines combined their gifts to create the Fatzinger-Haines Open Doors Scholarship for Penn State students enrolled at the Lehigh Valley campus who have a financial need and/or academic merit.
About 70 percent of degree-seeking students at Penn State Lehigh Valley have a financial need. Open Doors Scholarships, which fulfill one of the imperatives of the University's current campaign, "A Greater Penn State for 21st Century Excellence," ensure that a Penn State Lehigh Valley education is affordable and obtainable for students. The scholarships support students in one of the five Open Doors programs the University has created to help students excel academically and stay on track toward graduation. 
Fatzinger is in his ninth year as athletic director of Penn State Lehigh Valley. He is revered in the local high school sports scene primarily for his successful 35-year career coaching boys' and girls' basketball; directing athletic programs at Parkland High School; and for spending two years coaching at Allentown Central Catholic. Fatzinger was inducted into the Lehigh Valley High School Basketball Hall of Fame in 2018.
"Our athletic programs allow students to have a college experience and continue to play a sport they love, and it motivates them in their education," Fatzinger said.
Growing up in Allentown, Fatzinger attended William Allen High School and has established both his personal and professional relationships all in the Lehigh Valley.
"I identify a lot with the students here. I am a first-generation student myself. I see how they attend classes, how hard they work; many are working 20-30 hours a week while having a positive college experience," Fatzinger said. "Many of our students will remain here in the Lehigh Valley and contribute to our region. I have a philosophy to pay it forward, so I hope this contribution helps a student finish their degree and will allow them to someday give back to this great community."
Fatzinger earned a master of education from Temple University, a bachelor of science in education from Kutztown University, and a certificate in supervision and curriculum from Lehigh University. 
Haines grew up in New Jersey. His connection to the Lehigh Valley began when he attended and graduated from Lehigh University with a bachelor of science in material sciences and engineering. After serving in the U.S. Army through the ROTC, Haines earned a master of business administration from The Wharton School at the University of Pennsylvania. While living mostly in Pittsburgh and Connecticut, he then spent 35 years at U.S. Steel in a variety of roles including general manager of the tubular products division, vice president of purchasing and transportation, and vice president of technology and management services before retiring in 2002.
When the Historic Hotel Bethlehem went bankrupt in 1998, Haines put together a group of people to buy the hotel. In 1999, he became managing partner of the Historic Hotel Bethlehem.  Haines and his wife, JoAnn Haines, moved back to Bethlehem in 2002.
"My connection with Penn State started with the Creamery. My wife and I always enjoyed visiting the Creamery when we went to University Park for Penn State-Lehigh wrestling matches. It was my wife's idea to offer Penn State Berkey Creamery ice cream at the hotel. Through that venture, I got to know the people of Penn State Lehigh Valley and that enlightened me to the fact that a student can get a first-class education at about half the cost while living at home and working in the Lehigh Valley. I have many Penn State Lehigh Valley students working at the hotel, and we are pleased to be integrated with this campus," Haines said.
Haines, too, is a first-generation college student who benefited from financial aid and work-study positions throughout college. Haines has served as a PSU-LV advisory board member since 2016.
"What I like to see is the kid who didn't necessarily excel in high school, come work for me as a bell hop then attend community college, before transferring to Penn State Lehigh Valley where they continue working while succeeding in school. With private school tuition being well beyond the capability of most students, I see the model of two years at community college followed by two years at a campus like Penn State Lehigh Valley as an incredibly affordable option," Haines said.
Fatzinger and Haines have golfed together over the years and found they share common interests in supporting students, so it made sense for them to partner on this scholarship.
"It was a unique opportunity to have these two people partner together to maximize their donation to benefit students," said Tina Q. Richardson, chancellor, Penn State Lehigh Valley. "Their generous support is greatly appreciated. Their gift will give more students the ability to achieve their academic goals and career aspirations."
The scholarship will start being awarded in Fall 2019.
"A Greater Penn State for 21st Century Excellence" is a focused campaign that seeks to elevate Penn State's position as a leading public university in a world defined by rapid change and global connections. The goal of the Penn State Lehigh Valley campaign is $3.4 million. With the support of alumni and friends, "A Greater Penn State" seeks to fulfill the three key imperatives of a 21st-century public university: keeping the doors to higher education open to hardworking students regardless of financial well-being; creating transformative experiences that go beyond the classroom; and impacting the world by fueling discovery, innovation and entrepreneurship.
For more information about endowing a scholarship, contact Development Director Phillip St. James at 610-285-5072 or [email protected]. To learn more about "A Greater Penn State for 21st Century Excellence," visit the Greater Penn State website. To learn more about giving to the Lehigh Valley campus, visit the Penn State Lehigh Valley Giving website.