Ebony Sanders has received many accolades this year for her performance on the court and in the classroom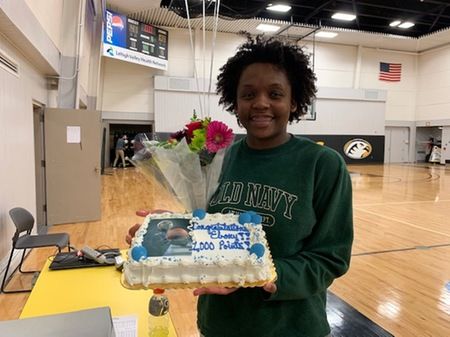 CENTER VALLEY, Pa. — Penn State Lehigh Valley women's basketball standout player Ebony Sanders has received many accolades for her standout year on the court and in the classroom, and now adds another — the Women's Basketball Hall of Fame, in Knoxville, Tennessee, has requested her No. 20 jersey to be displayed in their Ring of Honor.
The Women's Basketball Hall of Fame opened in June 1999 and is the only facility of its kind dedicated to all levels of women's basketball. Some of the most influential women's basketball coaches, players and trailblazers are represented at the facility, such as Pat Summit, Geno Auriemma and Muffet McGraw, to name a few.
"With that having been the case since the Hall of Fame opened in 1999, you can imagine the caliber of players' jerseys that have once hung in our rafters. Without a doubt, Ebony Sanders is definitely a part of an elite group, and a part of history now," said Hall of Fame Director of Basketball Operations Josh Sullivan in a letter sent to Penn State Lehigh Valley Head Coach Lorie Khalil.
This the first time a student-athlete from Penn State Lehigh Valley has been recognized by the Hall of Fame. The Ring of Honor, a favorite display with visitors at the Hall of Fame, has become one of its most popular exhibits. Currently more than 100 jerseys hang in the Ring of Honor, from high-school level to collegiate All-Americans from the 2018-19 season.
Sanders had a stellar junior season averaging 14 points and 12 rebounds per game and was named PSUAC 1st Team All-Conference, USCAA 1st Team All-American and USCAA National All-Academic. She also surpassed her 1,000-point milestone and was a key part of PSU-LV Women's Basketball's historic season where they finished with a school best 25-3 overall record, 17-0 conference record, 24 straight wins, the program's first-ever PSUAC Championship and a USCAA National Tournament Final Four finish.
"Ebony has been a blessing to our athletic programs, to our campus, as a representative of the PSUAC and USCAA and to my life personally and I am honored to be her coach," said Khalil. "For her to accomplish what she has 3,000 miles away from home takes so much courage, commitment and sacrifice. We are all so proud of her and thankful she trusted our campus with her future."
PSUAC Awards Banquet honors outstanding contributors
The Penn State University Athletic Conference held its annual awards banquet on May 20 at the Nittany Lion Inn, recognizing four outstanding contributors to PSUAC member campuses and the conference. Penn State Brandywine seniors James Cellucci and Maddie Malfara, along with Penn State Lehigh Valley's Ebony Sanders, were given the John S. Egli award, while Penn State Beaver Director of Athletics Andy Kirschner received a spot on the Robert Scannell Roll of Honor.
The Egli Award is named in honor of John S. Egli, a former student-athlete, professor and coach who played a significant role in the addition of intercollegiate athletic programs to the Commonwealth Campuses. The award is given to the conference's top male and female student-athletes each year, with emphasis placed on athletic success, scholarly achievement and community service.
Sanders, a two-sport star at Lehigh Valley, helped her team capture its first-ever PSUAC Women's Basketball Championship in February, earning All-Conference and All-American recognition in the process. Sanders also is an All-Conference volleyball player at Lehigh Valley, previously winning the conference's Newcomer of the Year award. Sanders has routinely assisted in the campus community, working Open House events for athletics, serving youth at basketball clinics in the region, coaching youth volleyball and taking part in her campus' "Week of Giving" over spring break. Sanders, a native of California, was unable to attend the banquet but was able to FaceTime in to view her introduction by Lehigh Valley Women's Basketball Coach Lorie Khalil and provided a recorded speech for the gathering.
Sanders will return for her senior year this fall and will play for the Penn State Lehigh Valley women's basketball team.
The Scannell Award, named for Robert J. Scannell, recognizes an administrator, faculty, staff member or coach who has served Commonwealth Campus athletic programs with distinction. Kirschner receives the award with 18 years as an athletics administrator and coach at Beaver. Kirschner has won four Coach of the Year awards in softball; been named the USCAA's Garth Pleasant Athletic Director of the Year; and the USCAA's Softball Coach of the Year. In addition, Kirschner has served as the president of the USCAA's board of directors and will serve as the president of the PSUAC's council of athletic directors beginning July 1.
For more information on the Women's Basketball Hall of Fame please visit https:/www.wbhof.com
Follow PSU-LV Athletics on Instagram @PennStateLVAthletics and Twitter @PennStateLVAthl.