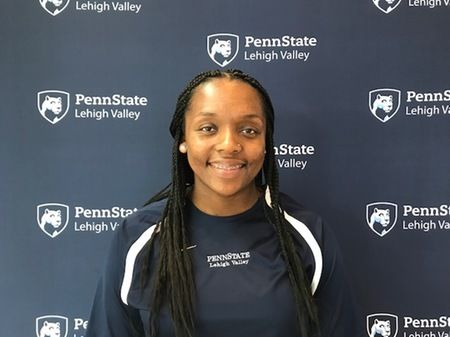 Women's volleyball falls to Penn State Schuylkill, 3-0
The Penn State Lehigh Valley women's volleyball team lost to Penn State University Athletic Conference opponent Penn State Schuylkill 3-0 on Sept. 14 in Allentown. With the loss, Lehigh Valley drops to 2-2 overall and 0-1 in PSUAC play.
Schuylkill controlled all three sets with scores of 25-15, 25-13 and 25-10. Ebony Sanders had a team-high 12 kills. Adriana Leon led with a team-high 17 assists.
Ebony Sanders named PSUAC Offensive Volleyball Player of the Week
Sanders led Lehigh Valley to two straight wins earlier in September. She recorded 15 kills and seven serving aces in a 3-1 win over Lehigh Carbon Community College, then notched nine kills and five aces in a 3-0 win over Cheyney University.
Brian Zinman named PSUAC Golfer of the Week
Penn State Lehigh Valley golfer Brian Zinman won the PSUAC White Course Invitational by a stroke on Sept. 5. Zinman carded a 4-under par 68 to help Lehigh Valley grab a share of the team title.
Golf places first at PSU Fayette Invitational
Morgan Krause claimed the women's championship.
Golf places first at Penn State Schuylkill Invitational
Team score: 311 (first place)
Brian Zinman had the top individual score of 72.
Individual scores:
Brian Zinman 72
Anthony Sawarynski 75
Andrew Oliveira 80
Kevin Wagner 84
Morgan Krause 95 (F)
Nick Herman 98
Tyler Ringenberger 99 
Women's soccer falls in home opener against Sussex Community College
The Penn State Lehigh Valley women's soccer team lost its home opener to visiting nonconference opponent Sussex Community College on Sept. 8 in Center Valley.
Follow Penn State Lehigh Valley Athletics on Instagram @PennStateLVAthletics and Twitter @PennStateLVAthl.  Sign-up for athletic text alerts at http://psulehighvalleyathletics.com/list-signup.