Raised more than $41,000 toward overall total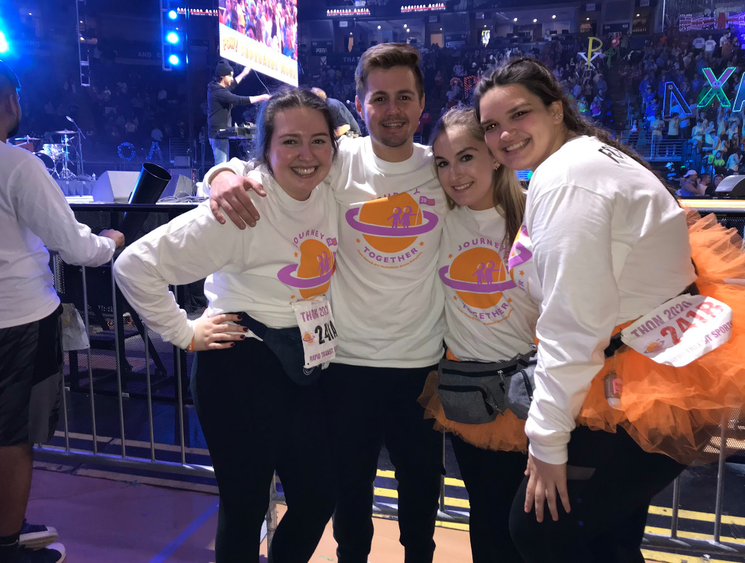 Penn State Lehigh Valley Benefiting THON hosted a THON dancer send-off to thank alumni and community donors and celebrate dancers Kate Wagner, Stephen Botek, Natalie Ament and Elizabeth Jasilionis on campus on Feb. 19. More than 60 students, friends and family members gathered to celebrate the dancers before they departed for the Bryce Jordan Center at University Park to participate in THON 2020 weekend, which ran Feb. 21-23.
The dancer send-off was presented by Penn State Lehigh Valley's THON Chair Mary Williams and included recognition of the donors who contributed, along with a video message from the dancers' families and friends wishing them luck. Dancer and sophomore Kate Wagner received the Howard L. Kulp Spirit of THON award in recognition of her extraordinary efforts during the preparations leading up the event.
In total, Lehigh Valley area Penn State alumni raised $18,490.48 to support Penn State Lehigh Valley Benefiting THON through a variety of fundraising initiatives, including the "Dance for a Cure" event; the "Hops 4 Hope" event; and the Lehigh Valley Chapter of Penn State Alumni Association. In addition, Howard Kulp, St. Luke's Reading Rocks program, which raised an additional $2,000.
Joe Schwartz, admissions counselor at Penn State Lehigh Valley, and Pam Fleck, assistant director of student affairs at Penn State Lehigh Valley, served as club advisers for Penn State Lehigh Valley THON.
"Joe (Schwartz) and I are incredibly proud of all students involved with THON as well as the alumni, faculty and staff who supported their efforts. We raised over $14,000 more than last year which is a huge accomplishment and is a testament to everyone's dedication. We also increased our total number of dancers from three to four! THON weekend capped a tremendous year and we couldn't be prouder."

-- Pam Fleck, assistant director of student affairs at Penn State Lehigh Valley
The dancers are part of a team of Penn State Lehigh Valley students who have worked through the fall and early part of this semester in raising funds for Four Diamonds. Over the past several months, fundraising efforts have included Ribboning, a Dodgeball tournament, a Book Sale, a successful Silent Auction, volunteering at Lights in the Parkway, and contributing to the Reading Rocks program at St. Luke's University Health Network with their Children's Book Drive. Through their efforts, the Penn State Lehigh Valley team raised $41,861. In total, Penn State's THON 2020 raised $11,696,942.38 for Four Diamonds at Penn State Children's Hospital.
The funds raised by THON are used to cover the treatment costs for pediatric cancer patients in addition to supporting cancer research. Since 1977, THON has raised more $180 million for Four Diamonds at Penn State Hershey Children's Hospital.
Contact
Dennille Schuler
Public Relations Specialist
Penn State Lehigh Valley