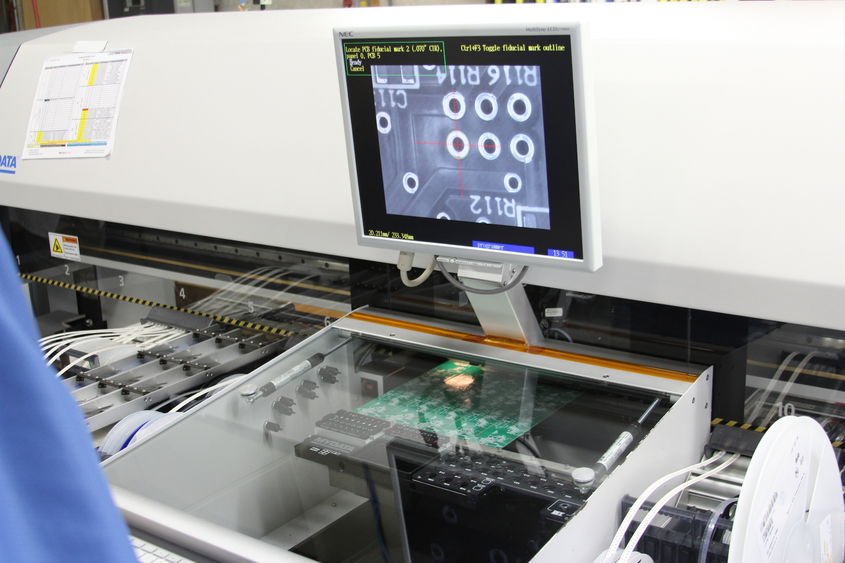 Steven Markowitz, president of Lehigh County manufacturer Allen Organ Company, has pivoted his company from manufacturing musical organs to life-sustaining equipment in an effort to aid hospitals and first responders during the COVID-19 pandemic.
A 1975 Penn State business alumnus, Markowitz served as a Penn State Lehigh Valley campus advisory board member for several years and continues to be a longtime donor and supporter of Penn State Lehigh Valley. Now his company is providing a crucial service to the local community during the uncertainty created by the pandemic.
Allen Organ's high-tech assembly machines typically work on a combination of the internal workings of electronic organs for churches, homes, studios and theaters, as well as circuit boards for other companies through its subcontract manufacturing division, Allen Integrated Assemblies (AIA). But now, during the pandemic, Markowitz is solely producing circuit boards for critically needed equipment, including flow meters and the machines that make personal protective equipment.
"Because of our AIA business, I had the opportunity to make some decisions that would enable our employees and company to play a role, however small, in helping to fight the pandemic," Markowitz said. "I was determined to do whatever was possible and was fortunate to be in a position to take on some related responsibility."
His company had short notice on March 19 to shut down operations in accordance with government-mandated orders in response to the coronavirus pandemic. As the factory notified customers of its shutdown, alarm bells began to ring. For some customers, the assemblies manufactured by AIA were included in their life-sustaining products. The sudden inability to supply these subassemblies put the production of these life-sustaining products at risk.
After many communications with the state, AIA worked to obtain the required waiver to continue production of its life-sustaining components, with 35 of the 180 employees voluntarily contributing their assistance to the venture. However, the project was not without its challenges.
Concern for employee safety was paramount as the factory reopened its production lines. Special steps, including additional cleaning and social distancing between workstations and employees, were implemented to address employees' feelings of fear and anxiety during the early stage of the shutdown.
"The heroes here are the individual employees who have volunteered to continue working in a very stressful macroenvironment. They are the true heroes in this fight against the coronavirus," Markowitz said.
Markowitz credits his Penn State education and experience will giving him a broad view of the community.
"The students were diverse and included many veterans on the G.I. Bill, who I admired due to their service to the country during the very difficult Vietnam era," Markowtiz said. "I met various international associate professors who shared information about their countries that helped formulate my views of how inter-related the global supply chain had become, both from an economic and geopolitical perspectives. These two very different items helped instill in me, in general, a strong call for action in my life."
Markowitz's sense of compassion and hard work stand out as an example of Penn State's continuing focus on community support.
"Steven epitomizes the type of innovative leader that is carrying our companies and communities through the pandemic. As the second largest producer of CEOs, this ability to think creatively and respond with relevant solutions is something we are fortunate to have threaded through our Penn State community," said Tina Q. Richardson, chancellor, Penn State Lehigh Valley. "We're also very fortunate for Steven's support of our campus. Over the years, he has been an important member of our advisory board and through his family's generous donations established the Jerome and Martha Markowitz Trustee Scholarship and the Markowitz Music room. It's that 'We Are' spirit that makes it easy to understand why Penn State will remain strong – even during a global crisis."
 "We Are" stories
The "We Are" spirit is perhaps more important than ever before, and Penn Staters everywhere are coming together in new and amazing ways. During these challenging times, our community is continuing to realize Penn State's commitment to excellence through acts of collaboration, thoughtfulness and kindness. As President Eric Barron has written on Digging Deeper, this truly is a "We Are" moment — and we want to hear your "We Are" stories.
Visit news.psu.edu/WeAre to share how you or other Penn Staters are supporting each other to overcome the collective challenges presented by COVID-19. We are!
Contact
Dennille Schuler
Public Relations Specialist
Penn State Lehigh Valley