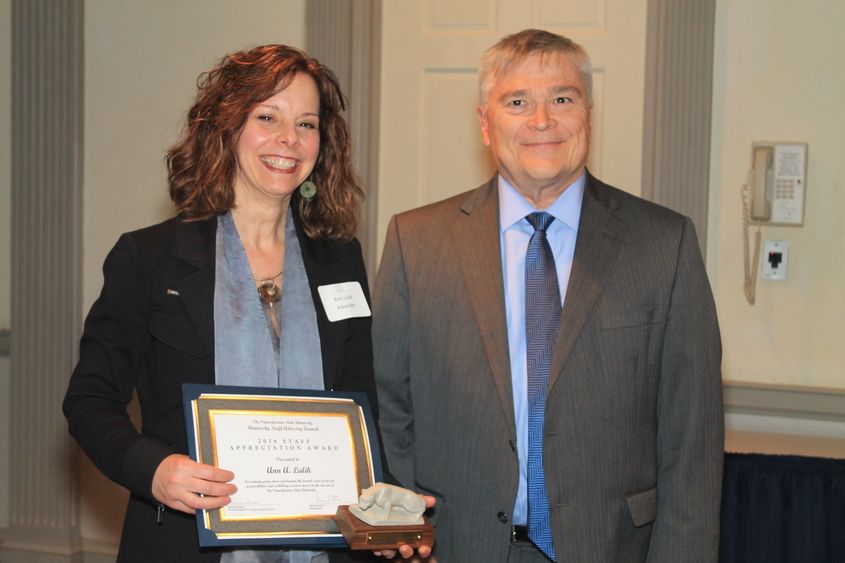 Ann Lalik, gallery director and arts coordinator at Penn State Lehigh Valley, was recognized with a 2016 Staff Recognition Award from the Pennsylvania State University Staff Advisory Council (USAC).
Penn State President Eric Barron presented the award on May 3, at the Nittany Lion Inn on the University Park campus. Lalik was one of six recipients University-wide. This award recognizes a staff member who goes above and beyond their normal routines, who resolves difficult dilemmas, who is exceptionally creative and who is responsive to the needs of others.
Lalik was nominated by her Penn State Lehigh Valley colleagues: Diane McAloon, alumni relations coordinator; Felicite Gibson, administrative support assistant; and Sharon Neders, administrative support assistant. The nomination noted Lalik's many accomplishments and collaborative and supportive nature.
"Ann Lalik has endless energy for her passions, both promoting the arts and promoting the University. As gallery director, she is responsible for bringing a multitude of learners into our campus community on a daily basis… The gallery has been a great success in many ways. Not only has Ann attracted community support through exhibitions, her work has gained financial support for the campus as well," noted McAloon.
"She lends her creative energy and expertise to enhance the campus visibility all year long. Ann worked with me to host our first campus meeting for the Forum on Black Affairs (FOBA). She immediately offered to help create a program at the Ronald K De Long Art Gallery to welcome FOBA members from University Park and across the Commonwealth campuses. Ann helps make Higher Education more interesting, creative and fun," said Gibson.
Neders said, "Her interest in promoting the arts and Penn State, across all possible avenues, is unmatched. Ann has changed things large and small here as an instructor, innovator, artist and community activist."
Of the other five award recipients this year, three were from University Park, one was from Worthington Scranton and one was from World Campus.
Contact
Dennille Schuler
Public Relations Specialist
Penn State Lehigh Valley