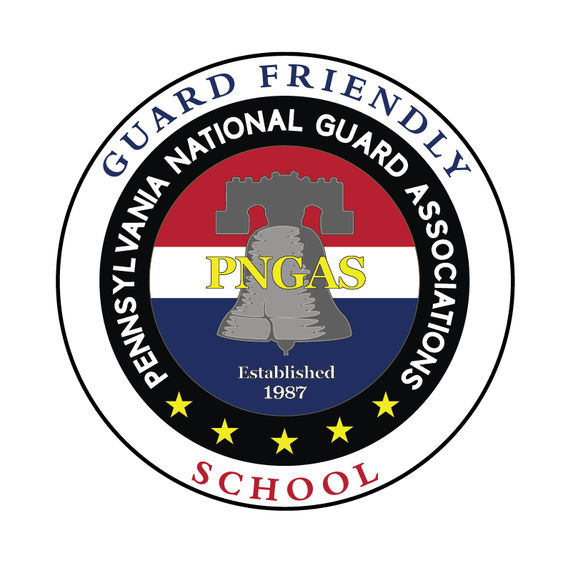 CENTER VALLEY, Pa. — Penn State Lehigh Valley has been named a Pennsylvania National Guard Associations (PNGAS) "Guard-Friendly School" along with 12 other colleges and universities.
Developed by the PNGAS Education Advisory Council, the "PNGAS Guard-Friendly School" standards were designed to recognize colleges, universities and trade schools which meet or exceed 10 baseline criteria that create a supportive learning environment to assist members of the Pennsylvania Guard and their families in pursuing post-secondary degrees.
"At Penn State Lehigh Valley, our goal is to provide a welcoming and supportive environment for our active military, veterans, and their families. Our mission is to provide a smooth transition into higher education and guide them to the resources and supports that are available to them at Penn State Lehigh Valley," said Melissa Baker, coordinator of student services, Penn State Lehigh Valley. "We also strive to connect and engage them with the campus through our Student Veteran Association and Mentoring program. It is my privilege to serve our students that are currently serving or have served our country."
Originally, 30 schools earned the designation as a PNGAS Guard Friendly School. Now, with 43 Guard Friendly Schools, the 13 new schools are: Gwynedd Mercy University, Muhlenberg College, Penn State Scranton, Penn State Greater Allegheny, Troy University, Clarion University, Villanova University, Penn State Lehigh Valley, Robert Morris University, Lehigh Carbon Community College, Shippensburg University, Grantham University and Valley Forge Military College.
The active and participatory PNGAS Education Action Council is chaired by retired Brig. Gen. George Schwartz. Through his leadership, volunteers from some of the state's leading colleges and universities voluntarily review applications, guidelines and recommend approval decisions and improvement criteria for each applicant.
For many years, the Education Assistance Program (EAP) has been the number one recruiting tool for the Pennsylvania National Guard. Since its inception, Pennsylvania has distributed more than $281 million through the EAP so Guard members can get college, university and trade school degrees. The EAP provides a tuition benefit equivalent to the yearly tuition rate set by the Pennsylvania State System of Higher Education so that members of the Pennsylvania National Guard can attend one of 488 Pennsylvania Higher Education Assistance Agency (PHEAA) approved schools. Presently, the EAP is an almost $32,000 tuition benefit for each guardsman.
With the July 2019 enactment of the Military Family Education Program (MFEP), there is a now a non-lapsing fund providing EAP-like tuition benefits to spouses and children of members of the Pennsylvania National Guard when a guardsman re-enlists for an additional six-year term. Next year, the MFEP will be an almost $32,000 tuition benefit for spouses and/or children of a Guard member that reenlists for 6 years.
As state and national emergencies and global warfare become increasingly sophisticated, technology-driven and complex, having a well-trained and educated Guard force is more strategic and valuable than ever, said Kathleen Fabrizi, executive director, PNGAS and the Pennsylvania National Guard Foundation.
"We are very confident the designation of PNGAS Guard-Friendly School will keep producing immediate and long-term benefits and synergies for students, faculty, alumni, Guard-members, veterans, their spouses, families, the Commonwealth of Pennsylvania and its economy," Fabrizi said.
PNGAS is a non-profit organization not associated with or legally connected to the Pennsylvania National Guard, the state or federal government, the U.S. Military or the Pennsylvania Department of Military and Veterans Affairs.
To learn more about Penn State Lehigh Valley's resources for military veterans visit the Veteran's Services webpage or contact Melissa Baker at 610-285-5217 or [email protected].
Contact
Dennille Schuler
Public Relations Specialist
Penn State Lehigh Valley