Early-stage startups test their assumptions and ideas.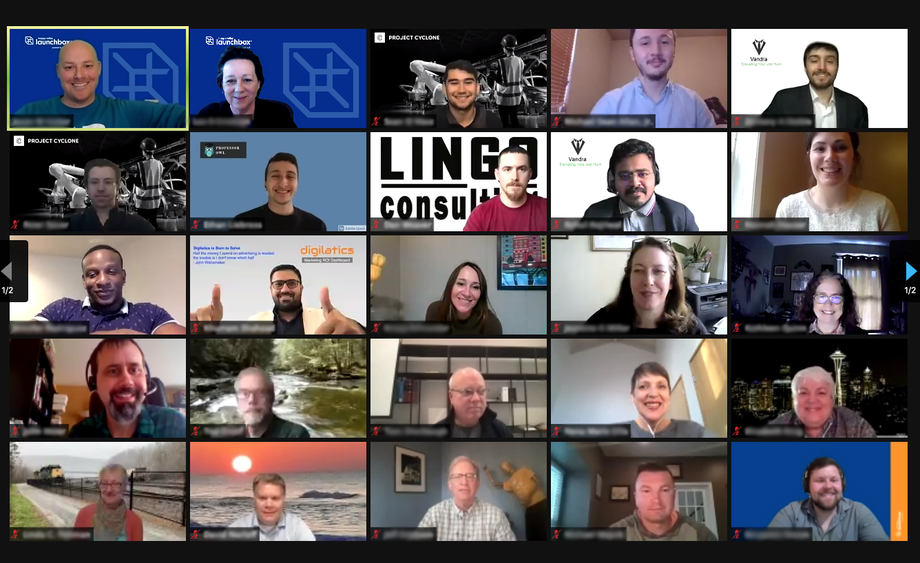 Seven new startups launched by community and student entrepreneurs graduated from Happy Valley LaunchBox powered by PNC Bank's FastTrack Accelerator. The startup ideas spanned health tech, ed tech, and environmental businesses including a biodegradable seed square, to a mentor network supporting economically disadvantaged students, and a health tech startup that focuses on improving quality of life for individuals with mobility impairments. Startup teams met virtually for 15 weeks starting in November of 2020 working with program directors to test both their assumptions and the market while avoiding common and costly startup mistakes.
As part of the program, each team received weekly 1-on-1 mentoring, no-cost legal and intellectual property advice, free server credits, a one-year subscription to SolidWorks and POWr website plugins, access to 80+ expert advisers, and the opportunity to earn up to $6,000 in funding for customer discovery, paying interns, and running market tests.
The 2020-21 FastTrack Accelerator teams include:
Fast track graduates receive immense value from the program, including connections to other programs. Prior to joining the FastTrack Accelerator cohort, the Cyclone team completed the Nittany AI Challenge, then migrated to the Fast Track program, and currently is gearing up to work on their startup full-time over the summer thanks to funding from the Invent Penn State Summer Founders program. The biggest lessons the team learned were to, "always be learning about your startup's market and the ultimate focus should be on the consumer," said Peter Sauer, Cyclone co-founder.
When asked about the value they received from completing the FastTrack Accelerator program, Cyclone founder, Sean Vaez said, "Our coaches were particularly helpful. From receiving feedback on business development to technical engineering, we were able to have great conversations with the advisors. Being able to tap into the network was a huge lever of success for us. With every conversation, our next steps became clearer."
Lee Erickson, chief amplifier of the Happy Valley LaunchBox and program lead, said the coaches are amazed at the diversity of ideas and the problems that the startups bring to the program. "A key part of working with so many different ideas are leveraging the incredible expertise of the coaches and advisors in our network," Erickson said. "We are also constantly practicing what we are preaching by constantly learning from our own Customer Discovery what adjustments we need to make to the program to help accelerate and de-risk these startups."
FastTrack Accelerator 2021-22 applications will open in early Fall 2021. More information is available on the Happy Valley LaunchBox website.
Past program graduates include startups such as Argolytics, Office Yum, Smoke Shield, and TrophyTracks.
To view more Penn State-affiliated startups, visit StartupNavigator.psu.edu. Entrepreneurs seeking resources can visit ResourceNavigator.psu.edu or submit an inquiry via invent.psu.edu.