Kassie Hilgert made her Penn State experience what she needed, when she needed it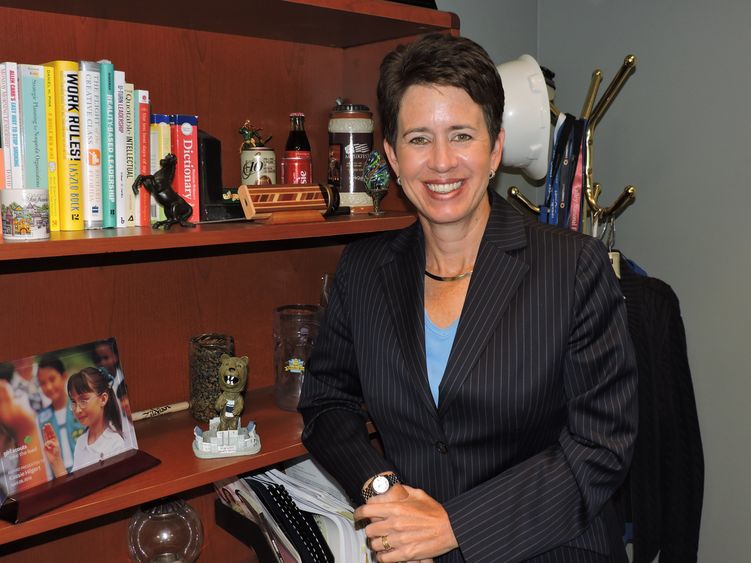 CENTER VALLEY, Pa. — Kassie Hilgert is a longtime Lehigh Valley resident who, at one time, wanted to be anywhere, but here. "Here" being the Lehigh Valley - or anywhere in Pennsylvania for that matter. Now, she is a proud Penn State alumna and serves as one of the Lehigh Valley's biggest advocates for its arts and entertainment scene. This is her story:
Hilgert went to Salisbury High School in Allentown, Pennsylvania, where she was involved in student government, tennis, softball and the student newspaper.
"Being in a small school district was great; you get a lot of personal attention, but I wanted a bigger school," said Hilgert. "I wanted to be a journalist and applied to a bunch of schools."
Even though her brother went to Penn State's University Park campus and Hilgert had visited him there many times, she wanted to make her own path.  She went to Ohio University's E.W. Scripps School of Journalism for her first year.
"I quickly learned I didn't want to be a journalist and besides that, the campus experience just wasn't there for me at Ohio University," said Hilgert. "It gave me a comparison to State College (University Park campus) and I wanted to go to State College."
She transferred to Penn State's University Park campus for her second year.
"I got a crash course in how to best live with other people because I was in temporary housing in Wolf Hall for a semester with a cast of 16 rotating roommates," said Hilgert with a laugh.
She pledged Phi Mu Delta as a little sister and fully embraced what Penn State had to offer.
She became a columnist for the Daily Collegian. The communications major then took an internship between her junior and senior year that would change the trajectory of her life.
"I accepted an internship with Medstar Television here in Allentown. It was unpaid, and I jumped in and did everything they needed me to do," said Hilgert. "This was the early 90s and the job market was horrendous. So when they offered me a full-time job as an assistant producer, I accepted."
Over the next six years, Hilgert worked closely with Penn State to finish her remaining courses either at local colleges or online while working full-time at Medstar. Then after two years, Medstar gave her the summer off to go back to State College to finish those last few credits. She graduated in 1997 after eight years, working full time for four of them.
"I was that kid that wanted to put the Lehigh Valley in the rear-view mirror because nothing was here when I was in high school. Then through Medstar, I was traveling all over the country at the age of 21, and I realized that every town that I went to was a town that someone was trying to get away from. This shifted my focus and made me think about what am I doing in my community to make it better?" said Hilgert.
After five years at Medstar, she was recruited by her former boss at Medstar to go work at Good Shepherd Rehabilitation as the marketing manager and eventually as the director of communications.
"At Good Shepherd, I got to run community meetings, draft case statements with the CEO, and strategize about donor cultivation," said Hilgert. "I got to work with people across the organization who bought into the mission about being involved with things bigger than yourself."
Five years later, Hilgert was recruited by another Medstar colleague to come work at Air Products. She worked in the communications department handling the public relations for half of the business lines, where she said she relied on her Penn State education.
She then moved to community relations and philanthropy.
"In that role, I became involved with all the Lehigh Valley nonprofits. That's where I learned the most about the valley and what the needs of the region are. I got involved with local boards and through this, I learned that I loved economic development," said Hilgert. "It was eye opening to me that all job growth doesn't come from big business. In fact, 80 percent of businesses in the Lehigh Valley have fewer than seven employees."
One of her proudest moments at Air Products came from Hilgert's involvement with the team who helped Air Products employees mobilize after being affected by Hurricane Katrina in 2005.
Hilgert served on the HEART team at Air Products, which raised more than $660,000 to help their affected employees. Hilgert traveled to New Orleans where she helped to obtain holiday donations, coordinated with fleet services to get rentals cars, then worked to find housing and all of it had to happen at the speed of light.
"It was amazing to watch this Titanic turn to focus on one goal—to help these people," said Hilgert.
It was through initial conversations with Jeff Parks, who was the founder and president of ArtsQuest, Hilgert learned about the plans for the largest brownfield redevelopment in the United States that ArtsQuest was planning to undertake at the Bethlehem Steel site on the Southside of Bethlehem.
"I always was passionate about the arts. I actually got a theater scholarship from PSU that I had turned down. And Jeff's vision for SteelStacks seemed to be this intersection of what I loved most with economic development and the arts," said Hilgert. "I made the leap to ArtsQuest in 2008 and became the head of sponsorship."
The experiences from her time at Penn State to her job at Air Products had all prepared her for the roller coaster ride that she has been on since joining ArtsQuest. Founded in 1984, ArtsQuest is a nonprofit organization providing access to art, culture and educational programs for the diverse residents of the Lehigh Valley and others who seek access to the community.
"My role quickly expanded to include marketing, membership and the box office," said Hilgert. "I got to be involved with the planning stages for SteelStacks, which was such a great experience to be a part of."
Parks retired in 2014. Following a national search, Hilgert was unanimously selected by the Board of Trustees to be ArtsQuest's second president and CEO.
"Upon hearing the news, I had a moment of exhilaration and then many moments of, 'Oh my goodness, how do you follow in a founder's shoes?'" said Hilgert. "My father said to me, 'You don't want to be the guy who replaces 'the guy.'"
As Hilgert recounts her highlights and "growing pains" leading this dynamic organization over the last three years, her passion and work ethic are on display.
"When you fail early, then success is right around the corner. I'm more worried about being successful without trying because then you didn't learn anything," said Hilgert. "We took some huge risks. We landed the first comedian/nonmusical act for Musikfest, which was a gamble, and it wound up being a grand slam success. And that was the same year we booked a band that was our biggest loss ever at Musikfest. And you know, we learned more from the loss."
ArtsQuest's flagship program is Musikfest, a 10-day music festival presented by the organization each August. It is the largest free music festival in the country. In 1988, ArtsQuest transformed a banana distribution warehouse into the Banana Factory community arts center. In 2011, it opened the ArtsQuest Center at SteelStacks, a performing arts center offering concerts, independent films, dance, comedy and more.
"We are an entrepreneurial nonprofit; we have Musikfest and then we have SteelStacks, which is essentially a tech start up. So, we have this established brand versus a start up," said Hilgert. "We have gone through every growing pain you could imagine.
We had way too much programming and blew through our reserves in two years after opening at SteelStacks. We had to tackle our debt, improve the business model, empower our staff, all while offering 3,000 concerts, classes and camps a year, including 11 festivals, a cinema, and a restaurant. And 65 percent of that programming is offered for free. We are more than a traditional arts organization, we are logistics, operations, fundraising, event planning. We run the gamut of a traditional business."
Hilgert said she sees parallels between her experiences at Penn State and her career.
"Every semester I would consciously do something I had never done; this gave me confidence to go into a new situation and think, 'Well, I'll figure it out.' I had formative experiences at Penn State. What I love about PSU is you can make it anything you want it to be," said Hilgert.
While Hilgert attended University Park, she sees the benefit of the Commonwealth Campuses — Penn State Lehigh Valley in particular.
"I think the satellite system at Penn State is one of the most important parts of the University. They've taken the best parts of Penn State and brought it all over the commonwealth," said Hilgert. "Penn State Lehigh Valley is almost like a city school located within three fairly decent sized cities with access to industry and great internship experiences."
ArtsQuest always has multiple interns on staff. Students from Penn State Lehigh Valley have benefited from unique experiences as ArtsQuest interns helping to run the nation's largest free music festival among running other summer programs.
"It doesn't matter if you go to University Park or another campus, you are a Penn Stater," said Hilgert. 
Hilgert will get the chance to give advice to Penn Staters when she serves as the featured speaker at Penn State Lehigh Valley's 2018 commencement ceremony to be held May 5, at the ArtsQuest Center at SteelStacks in Bethlehem.
"We have been fortunate enough to partner with ArtsQuest many times over the last few years and Kassie is the linchpin of that partnership. This is the third time our commencement ceremony will be held at SteelStacks. I am glad we will have even more of that ArtsQuest magic by having Kassie serve as our featured speaker," said Tina Q. Richardson, chancellor of Penn State Lehigh Valley. "Kassie's ability to thrive in any situation is due to her varied background and her eager willingness to accept and meet challenges. Her experiences and career to date will serve as an inspiration to our graduates."
Contact
Dennille Schuler
Public Relations Specialist
Penn State Lehigh Valley