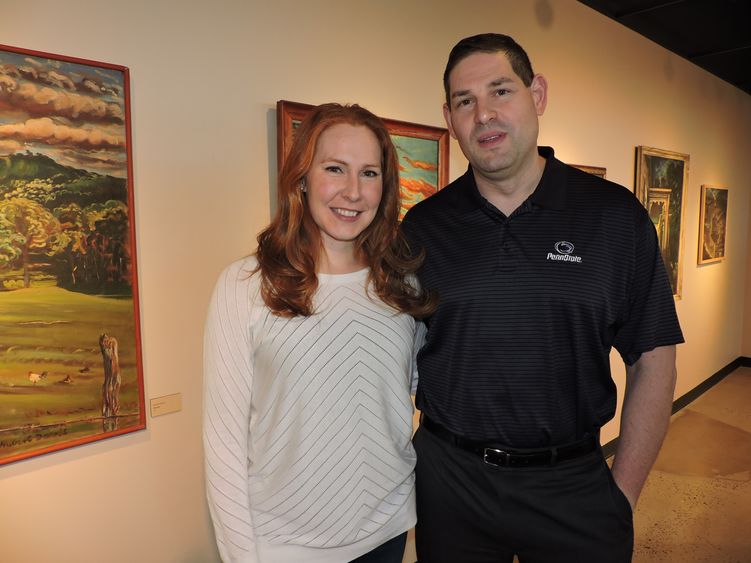 A Penn State alumnus and his wife have established a newly endowed scholarship in support of Penn State Lehigh Valley students with demonstrated need.
Shane McGee and his wife, Katelyn Powers, of Bethlehem, Pennsylvania, have provided the gift to create the Penn State Lehigh Valley McGee Scholarship. Funds will be used to support students at the Lehigh Valley campus, with special preference going to students who stay and complete their baccalaureate degrees at Penn State Lehigh Valley. The scholarship has the ability to be renewed for each year the student attends Penn State Lehigh Valley.
"We wanted to create this in order to give local students who need some assistance the opportunity to come to Penn State", said McGee, who attended Penn State Lehigh Valley for two years before finishing his education at University Park. "Students are exposed to so many new experiences, especially during their first two years of college. For example, I came into college as a math major, but once being exposed to other disciplines and having faculty interactions, I changed my major to business and it helped set me on a successful path forward."
McGee graduated in 1997 from Smeal College of Business with a management science and information systems (MSIS) degree and then earned a master's degree in business administration from Temple University. McGee serves on the Penn State Lehigh Valley Advisory Board and is co-chair of the current development campaign.
Powers graduated in 2001 from Lehigh University with a bachelor of arts degree in psychology and then earned a master's degree in counseling and human services also from Lehigh.
"We are grateful to Shane and Katelyn for their very generous commitment to Penn State Lehigh Valley students," said Tina Q. Richardson, chancellor of Penn State Lehigh Valley. "Their gift will provide our students vital support as they pursue higher education and will give them the benefits of the world-class opportunities that are offered at this campus."
Originally from Bethlehem, McGee, a Liberty High School graduate, has worked at Air Products and Chemicals, Inc. in Allentown, Pennsylvania, for the past 19 years. He currently is the IT business and program manager for Latin America Gases at Air Products.
Penn State's alumni and friends are invaluable partners in fulfilling the University's land-grant mission of education, research and service.
Gifts from Penn State's alumni and friends have been essential to the success of the University's historic land-grant mission to serve the public good. To fulfill that mission for a new era of rapid change and global connections, the University has begun A Greater Penn State for 21st Century Excellence, a fast-paced campaign focused on the three key imperatives of a public university. Private support will keep the door to higher education open and enable students to graduate on time and on track to success; create transformative experiences on Penn State campuses and around the globe that tap the full potential of Penn Staters to make a difference; and impact the world through discovery, innovation, and entrepreneurship. To learn more, visit www.giveto.psu.edu<http://www.giveto.psu.edu/.
Contact
Dennille Schuler
Public Relations Specialist
Penn State Lehigh Valley