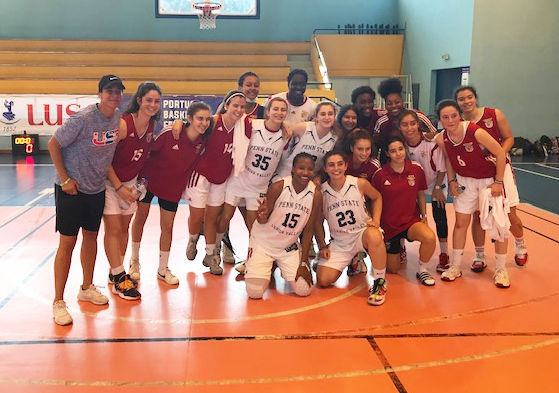 CENTER VALLEY, Pa — Penn State Lehigh Valley (PSU-LV) head women's basketball coach Lorie Khalil recently returned from a "once in a lifetime" coaching experience in Portugal and Spain. Khalil was one of six coaches chosen to work with players from across the U.S.
Khalil applied and was selected for this unique coaching opportunity through Student Athlete World USA, an organization that "combines the thrill of representing the USA in athletic competition with international travel," according to their website. Khalil said the application process was rather simple — an application, a Zoom interview with Student Athlete World USA president Tim Ryerson, and a call saying she was hired for a trip to Portugal and Spain.
It was a challenge to assemble a team of players from across the country and create a sense of camaraderie in a short time. "I only had five athletes — it was a U-19 team. I had two players from Texas, a player from Georgia who was actually born in the Lehigh Valley, a player from California, and a player from Maryland,"
"We never met before — we did a few Zooms, "Khalil said. "The first time we met was at the Newark airport the day we left. We had one scrimmage and one practice, then played in the Portugal Basketball Festival against three very good Portuguese teams."
Khalil had to familiarize herself with the European style of basketball before working with her new team. It was a learning experience for all.
"Basketball is such a game of detail. It takes a lot of time to develop a system for muscle memory and all those things for a successful team to happen," she said. "Those girls tried — they put everything out there. Their style of play is very different in Europe. They play with a 24-second shot clock. After they dribble, they can take additional steps. It's very physical — a very different game. To see the international style of footwork was unbelievable. We couldn't call time outs at certain times. The foul line is bigger internationally. The three-second call is different, too. We went over there playing one style; we had to adjust and play a totally different style." Khalil also left a little Penn State spirit in Portugal: "I gave some of the Portuguese players our old PSU-LV jerseys, they were so excited and grateful about that. We also did a video of the players doing the 'We Are' chant. For us, to go over there and put PSU and the PSUAC on the international map was a bonus."
When not playing, Khalil said she and her group were "going nonstop." "We would get up at 7 a.m. and go on excursions. It was a really well-rounded experience." She said it was "truly 10 of the best days of my life. I would highly recommend this to anybody."
Some of the trip highlights included ziplining across a river from Portugal to Spain, touring Portugal's capital city of Lisbon, and visiting Seville, Spain. Khalil was in a group with 108 other people.
"I feel like I went over there not knowing a single soul and came back having met some of the most amazing people from all over the country," she said. "The people are super nice. The country is beautiful. One thing that was different — the food menus were in a different language. All the food was fresh. It's a really beautiful country and culture."
COVID added another interesting aspect to the travel. Khalil said Portugal is approximately three months behind the U.S. with COVID vaccines and travel restrictions were still in place. "The older population is just getting their first vaccines now. Things were shutting down early. Masks were mandated. We all got tested three times — once before we left, and twice while we were there," she said.
"Now that I've seen what international footwork is, I will be googling it and looking up videos on YouTube about international skill development," she said. "Their footwork is amazing. Here in the U.S., we are very flat-footed."
"We see the same things all the time in our normal lives." Khalil concluded. "Living is seeing — seeing how other people live their lives and how other cultures operate is an extraordinary experience."