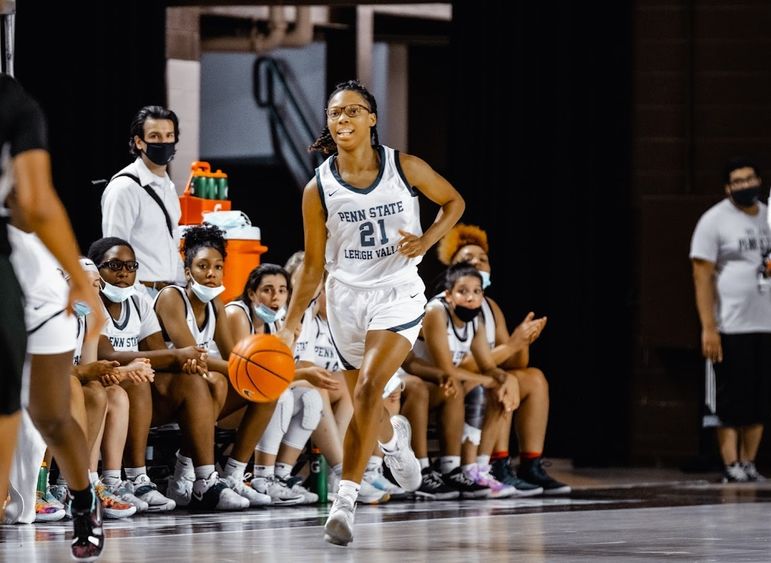 CENTER VALLEY, Pa. — The Penn State Lehigh Valley (PSU-LV) women's basketball team's impressive 22-6 record this season can be attributed to a number of key factors – among them the stellar play of senior Taylor Rae Styles.
Styles became the fifth player to score 1,000 career points in the history of PSU-LV women's basketball, reaching the milestone during the team's final regular season game, an 85-64 win over Penn State York.
"Scoring 1,000 points is a great accomplishment and we are so proud of Taylor," said PSU-LV head coach Lorie Khalil. "Taylor brought an amazing level of athleticism to our team. She could score at will if she wanted to and was so fun to watch the last few years."
Styles, of Allentown, has long had her sights set on 1,000 points.
"It was really exciting because I've been wanting to achieve this goal since high school," she said. "I didn't get to achieve it in high school because I had surgery and missed some of the season. My mindset was to get it in college."
Styles played her first two seasons at Scranton's Lackawanna College before transferring to PSU-LV to finish her bachelor's degree and continue her playing career.
Looking back on her time on the court, Styles said it's been a good experience.
"Two years ago, I didn't play the second half of the semester. So, I pushed myself to get good grades to be able to play," she said. "I passed, and with hard work and dedication, I was able to play."
While last season was canceled due to the COVID-19 pandemic, the team still practiced, wearing masks and adhering to safety guidelines. Styles is proud that she was finally able to achieve her goal this season, but said she couldn't have done it without the support of her teammates, family, friends and girlfriend.
"It took a me a long time, but I had everybody behind me, pushing me to accomplish that goal," she said.
As Styles' college career winds down, she's looking ahead to life post-graduation. A rehabilitation and human services major, she hopes to work for a Boys and Girls Club as a youth administrator or coordinator.
"I'm planning my internship, and I want to do that type of work and learn more about it. I'm hoping my internship will help me with that," she said.
Kahlil is thrilled by how far her now-former player has come.
"The fact that she was able to stay focused and driven through some adversity her junior year and the COVID year shows Taylor's strength, perseverance and determination," Khalil said. "This was an accomplishment that she came up short with in high school, so I'm so glad she was able to do it in college and at PSU-LV and forever leave a legacy behind."