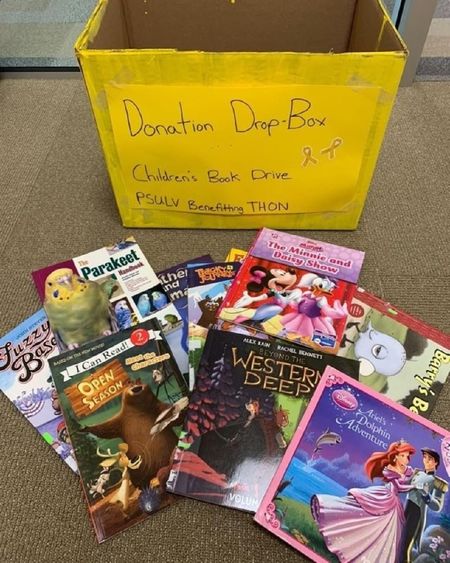 CENTER VALLEY, Pa. — The annual Children's Book Drive benefiting Penn State Lehigh Valley's (PSU-LV) THON endeavors is back, running now through the beginning of February.
Members of the PSU-LV community are invited to stop by the campus and drop off gently used books for children of all ages. Books can be placed in the yellow drop boxes in the second-floor student lounge.
From there, the collected books will be distributed through the Reading Rocks program at St. Luke's University Health Network.
PSU-LV student and THON Chair Brianna Peters said the collection is a great way to give back to the community.
"For our organization, we're always looking for unique ways to engage everyone — not just ourselves, but the entire community of faculty, staff and students," Peters said. "The book drive connects everyone in a very diverse way. And the benefit of donating books is it helps people clear out items they may not want anymore. We're involving as many people as possible, which is something we always want to do. It's a tradition to hold this fundraiser on our campus."
Once again, University alumnus and longtime campus donor Howard Kulp has pledged $1 per book to PSU-LV benefiting THON -- a commitment he has made for more than 10 years. For the Reading Rocks program, children who come to St. Luke's for various appointments are given a book when they leave to help instill in them a love of reading.
Kulp said the book drive is a win for all parties involved.
"I thought it was an interesting thing to do — hook up the Penn State students with reading and have them collect books," said Kulp, a former campus Advisory Board chair. "It's important because it does a couple of things — it allows the elementary school kids in the Lehigh Valley to get books and get interested in reading, and it helps out the PSU-LV students in terms of raising money for THON."
Books for children in grades pre-school through seventh grade are preferred, and donors can give as many books as they like. Peters said one donor dropped off 111 books.
For more information on the book drive, contact Peters at [email protected].