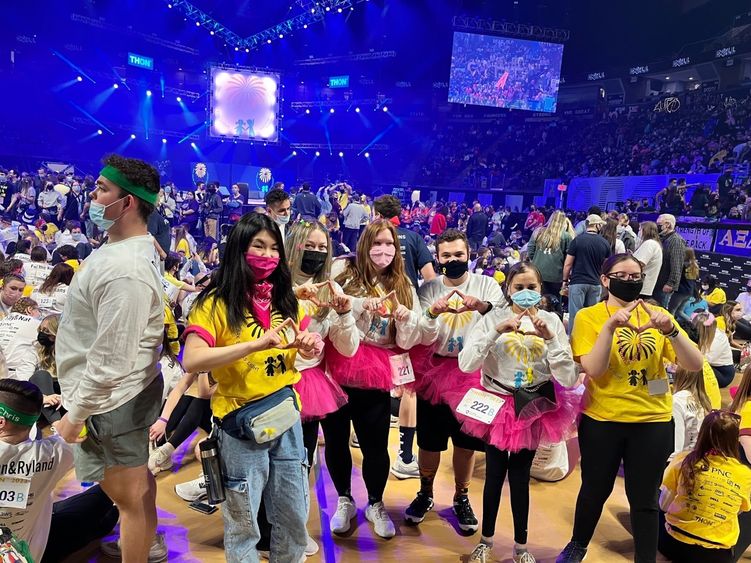 CENTER VALLEY, Pa. — By the time the 50th annual Penn State IFC/Panhellenic Dance Marathon (THON) wrapped up Sunday afternoon, the Penn State Lehigh Valley (PSU-LV) team found itself in a highly commendable position.
This year's PSU-LV Benefitting THON collective, led by student dancers Brianna Peters, Alexis Matlack, Rhea Kochhar and Tyler Mantz, came in second place fundraising-wise among Commonwealth Campuses, tallying a grand total of $43,978.94 in donations at the 46-hour dance marathon benefitting Four Diamonds at Penn State Health Children's Hospital.
All told, the 2022 THON raised $13,756,374.50 "For the Kids," a new record that beat out the previous mark of more than $13.3 million raised at the 2014 event. "Spark Endless Light" was the theme of this year's event, which returned to an in-person format after going virtual last year due to the COVID-19 pandemic.
The largest student-run philanthropy in the world, THON has raised more than $200 million for families affected by pediatric cancer since its inception in 1973.
The PSU-LV dancers went into the weekend with an already-impressive fundraising tally, with more than $26,000 coming from four donors: Terry DeGroot of Terraform Engineering, $500; local architect, former Advisory Board Chair and longtime campus benefactor Howard Kulp, $2,500; the annual "Dance for a Cure" alumni event, $3,473.58; and the owners of Lost Tavern Brewing, $20,000.
All four PSU-LV THON dancers brought their own individual passions to the cause.
A junior business management and marketing major, Peters has served as PSU-LV's THON chair for the past two years. Last year, she was part of the team that placed in the top three for fundraising totals among Commonwealth Campuses. Because of that, PSU-LV was one of two Commonwealth Campuses picked to host a booth at the THON Family Carnival in December.
Matlack, a senior psychology major, has served as campus THON events chair for the past two years. Her efforts have resulted in several successful on- and off-campus fundraising events.
A childhood cancer survivor, Kochhar, a sophomore, is in her second year of involvement with PSU-LV THON and is an active board member. She's demonstrated her passion for the mission through her morale building at club meetings and her commitment to fundraisers like the Candy Sale and Annual Book Drive.
Mantz, a freshman marketing major and photography minor, arrived on campus already an enthusiastic supporter of THON, given his involvement with his high school's mini-THON event. Currently campus THON's director of alumni and donor relations, Mantz has established a bond with local alumni and is working diligently to further connect the campus with community donors.
For more information on THON, visit thon.org/.