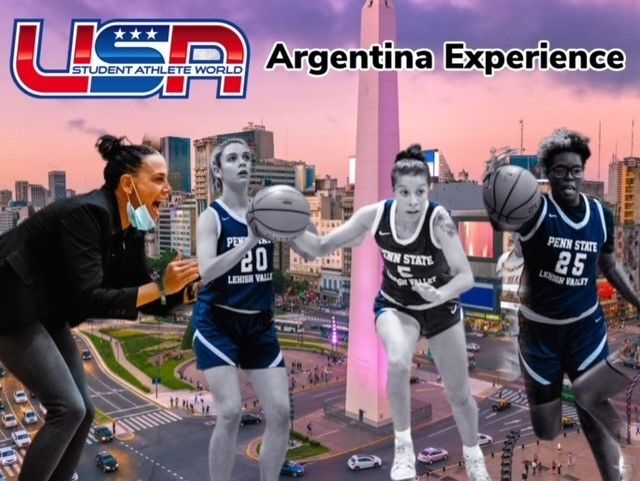 CENTER VALLEY, PA — Penn State Lehigh Valley (PSU-LV) head women's basketball coach Lorie Khalil is set to coach internationally for the second summer in a row — and this time three of her players are coming along for the experience.
Khalil and players Sage Christopher, Samantha Columna and Tazjahne Moore will travel to Argentina at the end of June as part of a team put together by STUDENTathleteWorld (SaWUSA).
The team will arrive in Buenos Aires on June 25 for 10-day stay in the country that will include a series of games against several professional Argentinian basketball clubs. The trip will end in the city of Mar Del Plata and the group will head home on July 4.
Khalil and the players will be accompanied by PSU-LV volleyball player Bridget Jones, who is using the trip as a pure cultural opportunity.
"I had an absolute blast last summer coaching in Portugal and Spain," Khalil said. "SaWUSA has put together an amazing 10-day trip, and I'm so glad that Sage, Sam, Taz and Bridget will be able to experience this type of once-in-a-lifetime opportunity."
The players are just as excited as Khalil about the trip.
"This is a huge opportunity," Columna said. "Not only will I experience a whole new level of basketball, but I'll also get to travel to beautiful places. This is a stepping stone to playing overseas, just like I've always dreamt."
"Having this opportunity means I get to experience what it's like to play with and against people from all over the world," Christopher added. "It's an amazing opportunity to travel to a beautiful country and play the game that I love."
The members of the 10-person team will meet on Zoom prior to departing. The roster consists of college players from all over the United States who were chosen based on their athletic ability, academics, leadership potential and overall character.
In addition to the international competition aspect, the trip is designed to provide the group with plenty of sightseeing, personal growth and leadership development opportunities.
"This will be an amazing experience. It'll be my first overseas trip and I can't wait to indulge in the wonders Argentina has to offer," Moore said.
For Khalil and the players, the trip marks yet another highlight in a year filled with them. The women's basketball team finished the 2021-22 season with a record of 22-6 overall and 17-2 in Penn State University Athletic Conference play — the second-best finish in program history.