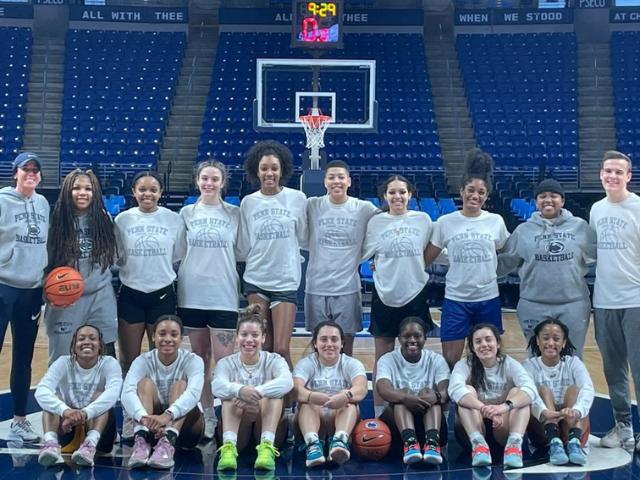 CENTER VALLEY, Pa. — Penn State Lehigh Valley (PSU-LV) took home multiple awards announced at the United States Collegiate Athletic Association's (USCAA) Small College National Championships hosted at Virginia State University March 12-16, 2023, including coach of the year, player of the year, multiple All-Americans, an All-Academic, and shoot-out wins.
USCAA National Coach of the Year: Lorie Khalil (PSU-LV head coach)
PSU-LV women's basketball has been a dominating force in the USCAA and Penn State Athletic Conference (PSUAC) since Khalil took over the program nine years ago. The team finished the regular season 23-4 overall, logging the second consecutive 20-plus win season. The team earned their place at the PSUAC Conference Championship for the second time in four years, winning it in 2019.
The PSU-LV team is ranked statistically in the top five in the USCAA for points scored per game at 85.9 (first place), field goals made per game (first place), field goal percentage (fifth place), total rebounds per game (fifth), assists per game (fifth), and steals per game (second). The team has been ranked in the top four in the USCAA polls throughout the season.
Khalil's players have also excelled in the classroom with a Fall 2022 cumulative GPA of 3.26, with seven players making the Dean's List. This is Khalil's first National Coach of the Year award. She was named PSUAC Coach of the Year in both 2017 and 2019.
"Lorie is a great coach — and a great person who really cares about her players," said senior Sage Christopher. "Coaching-wise, she is very experienced — and intense. When big games are approaching, she dissects the opponent and figures out exactly what we need to do to win. She also pays close attention to our individual progress. She knows when you're slacking and does everything in her power to push you and make you more resilient. We know that we can approach her with questions or concerns — she is very generous and will always be there to listen."
 
USCAA D2 National Player of the Year and First Team All-American: Chanelle Lee (sophomore — Brunswick, Maryland)
At 5'10", Lee is PSU-LV's leading scorer, averaging 14 points per game. According to Khalil, she is also "extremely versatile," leading her team in rebounds per game (7). Lee is ranked eighth in the USCAA in field goal percentage, ranked 16th in field goal attempts, ranked 14th in free throw percentage, and ranked 20th in points per game.
Playing out of her natural guard position, Khalil said "Lee is able to fly around the court on the defensive end, averaging two steals per game." Lee was also named PSUAC First Team All-Conference. She becomes only the second PSU-LV basketball player to be named USCAA Player of the Year.
USCAA 2nd Team All-American: Jah'nel Oliver (senior — Easton, Pennsylvania)
Oliver is currently ranked third in scoring on PSU-LV's roster, averaging 10.5 points per game. She is leading the team in steals per game (2.6), assist to turnover ratio (2.5) and assist per game (3.1). Oliver scored her 1,000th career point early in this season. Oliver was also named PSUAC 2nd Team All-Conference.
USCAA Honorable Mention All-American: Samantha Columna (junior — Stroudsburg, Pennsylvania)
Columna is PSU-LV's second leading scorer, averaging 11.7 points per game. The junior is second on the team in three-point shots made per game and has a great ability to get to the basket. Columna was also named PSUAC Honorable Mention All-Conference.
USCAA National All-Academic Award Winner (sophomore year and above with a 3.5 cumulative GPA):
Sage Christopher (senior — New Tripoli, Pennsylvania)
Gabby Giracello (sophomore — Myrtle Beach, South Carolina)
Chanelle Lee (sophomore — Brunswick, Maryland)
Khalil said, after returning to the campus with the many awards, "I am so thankful that my players' hard work and dedication is getting recognized within our conference and on the national level, on the court and in the classroom. It's been a successful year and we are grateful for the PSU-LV campus communities' support."