Both students traveled for Puerto Rico over spring break for short-term study-abroad program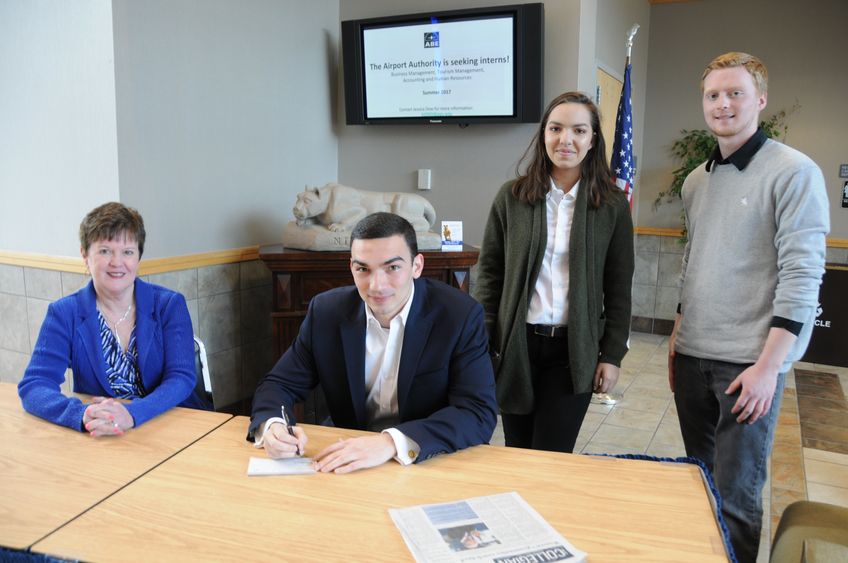 CENTER VALLEY, Pa. — At the end of last semester, the Penn State Lehigh Valley campus hosted "We Are ... One World and We Are ... Penn State Lehigh Valley," a community-service project that came out of a class assignment for HDFS 287 Intercultural Community-Building, taught by Sandy Kile, instructor in communication arts and sciences, along with the student club, RISE.
The class thought of the idea after reading "The Alchemist," which tells the story of a shepherd boy who wants to travel in search of a treasure.
The goal was to raise a total of $500 through a candy fundraiser to put toward one Penn State Lehigh Valley student attending a spring 2017 short-term study-abroad program. The students teamed up with Nick Miller, a finance major at the Smeal College of Business, who attended the Lehigh Valley campus for his first two years. Miller agreed to match the $500 if the HDFS class reached their $500 goal. After the two-day fundraiser, the HDFS class raised a total of $550 for the spring 2017 study abroad scholarship, which coupled with Miller's $500 match increased the scholarship to $1,050.
Miller's donation created a scholarship from his Varricchio-Miller Education Foundation. The Varricchio-Miller Education Foundation's mission is to give scholarships to Penn State Lehigh Valley students to use to study abroad.
Miller, Kile and one of Kile's students reviewed the essay applications for the scholarship and all three of them settled on the same two people as the winners: Joseph Johnson and Destiny Mercado.
"We created an essay contest with meaningful questions and once we all landed on the same two people as the winners, we decided to divide the $1,050 by two for more impact," said Kile. "My students were so excited to help one of their own. We hope this can continue."
Miller came to the Lehigh Valley campus on March 3 to present the checks along with Kile to Johnson and Mercado.
"The goal of my foundation is to benefit Penn State Lehigh Valley students," said Miller. "My accomplishments all started happening after my first short-term study-abroad program to Peru when I was a student at Penn State Lehigh Valley. You experience growth through travel and I think it is special to give that opportunity to others."
Both Johnson and Mercado went to Puerto Rico with the Sustainability 200 class over spring break, Mar. 4 to 11.
"The short-term study-abroad trip opened my eyes to new cultures and experiences. Even though Puerto Rico is part of the United States, the country has many differences," said Johnson, a sophomore supply-chain management major at Penn State Lehigh Valley. "It means a great deal for me to have won the essay contest because I could travel and open myself up to a great experience without stressing about money. The trip was an amazing experience and I could not have fully experienced it without this award."
Mercado, a first-year immunology major at Penn State Lehigh Valley, said the trip to Puerto Rico made her feel right at home and she found herself loving her culture.
"Without this scholarship, I would not have been able to experience something as great as this. I feel incredibly blessed to be able to indulge in my culture while also learning about things I loved," said Mercado. "Having the opportunity to further my education in a place where sustainable needs may be easier to see allowed me to conjure up ideas that would positively impact Puerto Rico. Hopefully I will be able to implement these ideas in the future!"
Contact
Dennille Schuler
Public Relations Specialist
Penn State Lehigh Valley