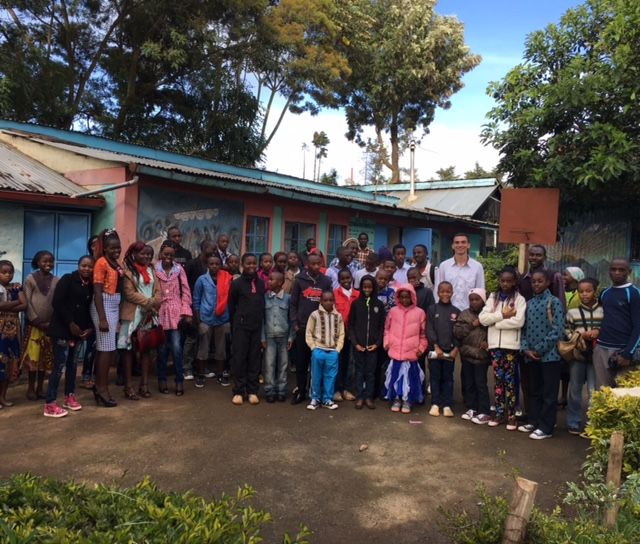 Nick Miller, a finance major who was a student at Penn State Lehigh Valley for two years and is now at Smeal College of Business on Penn State's University Park campus, has a new project that he hopes will have a powerful impact on the students from Penn State Lehigh Valley; the campus that had a powerful impact on him.
Miller is in the process of beginning the Varricchio-Miller Education Foundation, with the goal to give scholarships of up to $1,000 to Penn State Lehigh Valley students to use to study abroad. Currently, he has applied to become a limited liability company through Pennsylvania and also is considering to apply for nonprofit designation at a later date.
Miller has already worked with various organizations to provide learning experiences to students. His most recent work was with the Giraffe Center in Nairobi, Kenya in eastern Africa. He connected with the center online and was able to sponsor 47 scholarships for local school students. The scholarships provided the opportunity for the students to learn about a wide variety of topics, including energy conservation, local wildlife and education. They also learned about the high volume of traffic due to tourism and how these countries have to work to protect their land from being destroyed.
Miller's inspiration came from his time at Penn State Lehigh Valley when he attended two study abroad programs. During his first year, he went on a study abroad trip to Peru; during his second year he traveled with a group from the Lehigh Valley campus to the Netherlands. These were pivotal moments in his life. He strongly believes in study abroad and has visited 37 countries since then through his own personal travel.
"International travel opens your eyes to different cultures and ways of living. It definitely helps you grow as a person," Miller said.
Miller wants every student to have the opportunity to go on a trip abroad, which for him provided the chance to grow and learn. It is also the friendships and personal relationships he cultivated at the Lehigh Valley campus that inspired him to set up a foundation that will help the students of Penn State Lehigh Valley.
"There are a lot of different ways of benefiting from traveling, whether that's the adventures you go on or the bonds you make with complete strangers. Most of my close friends at Penn State are students I have traveled with at some point," he said.
The foundation is currently funded by the money Miller earned through his six internships to date, including his current summer position at JP Morgan in Manhattan, along with the investing that he has done since high school.
Miller had previously founded two businesses: Golden Lion International, and TeraDrones, LLC. His company TeraDrones, LLC was the recipient of a grant from Lehigh Valley LaunchBox, Penn State Lehigh Valley's business accelerator program for budding entrepreneurs.
"My experience at PSU-LV was great…I've taken a lot from the campus. I took advantage of the close connections that you have with the professors at a smaller campus," said Miller. "I valued my time there and also the time that those professors gave to me, so I wanted to give back."
Penn State Lehigh Valley professors such as Sandy Kile, instructor in communication arts and sciences, and Mike Krajsa, instructor in marketing and management, helped Miller immensely during his time at the Lehigh Valley campus. He wants to do the same for students who will be entering the campus long after he has left.
Miller will work closely with the campus development office on creating a fund to support those students who wish to study abroad.
Contact
Dennille Schuler
Public Relations Specialist
Penn State Lehigh Valley