Student who is paralyzed from waist down uses hand cycle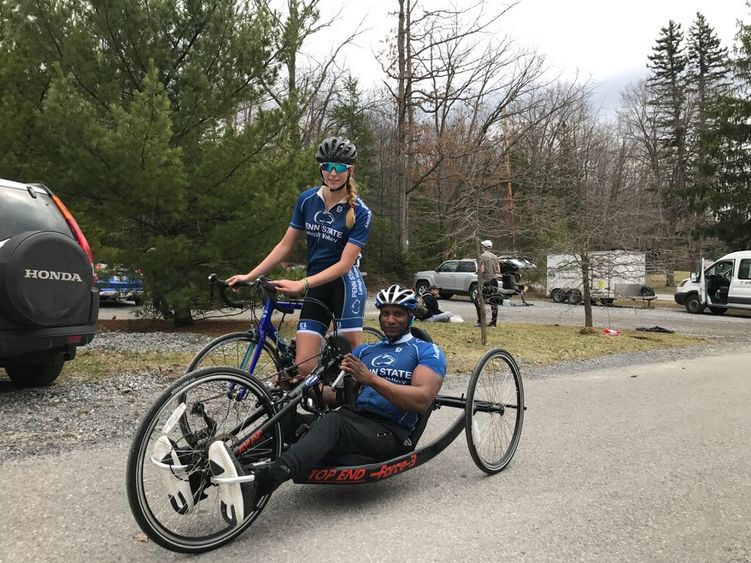 Special to Penn State News from Nittany News ...
CENTER VALLEY, Pa. — Lehigh Valley student Kenneth Keitt writes about his experience as a new member of the Penn State Lehigh Valley Cycling Club.
What makes me different?
I am paralyzed from the waist down and use a specialized hand cycle. This bike is human powered and uses hands, rather than legs, to move the pedals. Don't be fooled by this unique hand cycle. They are not only very expensive, but also take an enormous amount of strength to power. I compare the workout I get to doing as many push-ups as I can for a long period of time. Once I am done it feel like my arms are on fire from the lactic acid running through my upper body, but I am grateful for a device that allows me to be active and enjoy the outdoors.
The Cycling Club consists of riders at all levels; some compete, and others just use it for exercise and socialization. I got involved to try something new and see how far I could push himself. I ended up meeting Coach Mandy Marquardt, who saw potential in my riding ability and convinced me to consider pursuing competitive racing. She helped me establish some of my own goals. One of those goals is to follow a specific training plan, which requires a combination of cardio and strength conditioning. Aside from that, Coach Marquardt helped find me competitive races in my division of hand cycling. This allows me to showcase both the training and education that I have acquired through joining the Cycling Club.
If and when I am successful in hand cycling I will use the platform to advocate against the many limitations set on people with disabilities. I have my first official race this June in Lancaster, Pennsylvania, and I am determined to do well.
—Kenneth Keitt
Contact
Dennille Schuler
Public Relations Specialist
Penn State Lehigh Valley