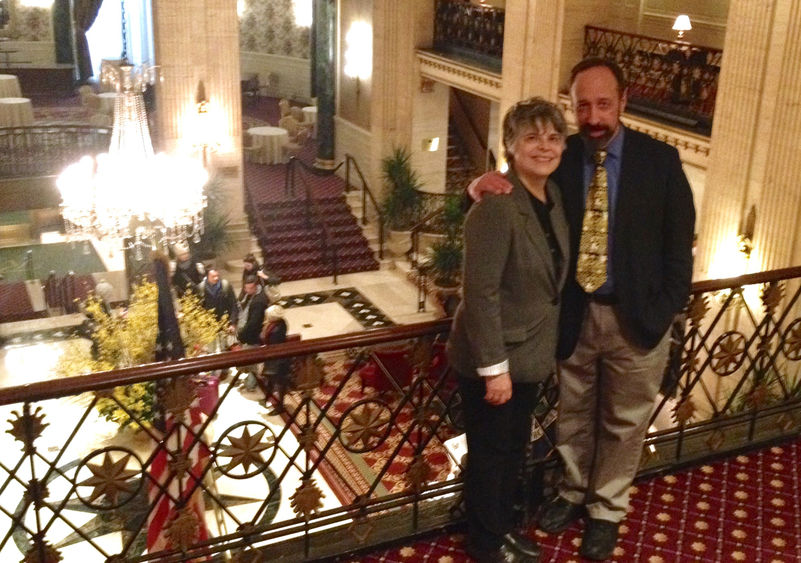 NEWS YORK, NY -- What do you think of when you hear the name Edgar Allan Poe? A raven; dark and stormy nights; and other macabre images of horror and mystery? And what is your perception of Poe himself? A lonely drunkard; a penniless tormented soul obsessed with death?
If any of these ideas came to mind, you're certainly not alone, nor are you necessarily wrong on all counts. But according to two Penn State professors, who are also notable Poe scholars, if this is all you know, you've barely scratched the surface of a deeply complex, brilliant, and even at times happy man whose work continues to enthrall readers around the world.
Take a look at the 36-page program listing more than 100 topics that was presented at The Poe Studies Associations' Fourth International Edgar Allan Poe Conference Feb. 26-March 1 at the Roosevelt Hotel in Manhattan. The schedule, curated by conference co-chairs Barbara Cantalupo, associate professor of English at Penn State Lehigh Valley, and Richard Kopley, professor emeritus at Penn State DuBois, featured three days of scholarly panels that focused on everything from individual works ("The Black Cat," "The Fall of the House of Usher," "Eureka") to Poe's life (Poe in New York, Poe Places, Poe and Alcoholism), to more contemporary explorations of Poe in the digital world and issues of gender and homosexuality.
The annual conference is an international meeting with presenters hailing from 24 countries including Algeria, Iceland, China and Spain. A generous gift from Susan Jaffe Tane, helped pay for the travel expenses of many of the international scholars, as well for student participants. According to Kopley, Tane has amassed one of the most impressive private collections of Poe artifacts in existence.
"Our beautiful program is, so far, my favorite part of this whole conference," said Cantalupo. "Seeing it in print, holding it in my hands, puts two and a half years of planning and work into real terms."
With a long and impressive body of published Poe scholarship between them, both she and Kopley were up to the task of chairing the conference. But two and a half years ago, neither jumped up and down to take it on.
"We were sitting at the PSA (Poe Studies Association) meeting and they asked for a volunteer to chair the next conference," said Kopley. "Barbara and I looked at each other. Neither of us wanted to do it ourselves, but we both said, 'I'll do it if you do it, too.'"
Cantalupo and Kopley met as colleagues at Penn State DuBois and formed a kinship over their shared love of literature, particularly Poe, the focus of both professors' doctoral dissertations and ongoing scholarship. More than that, their respective Poe research shares something else in common in that it focuses on characteristics less commonly known to the average Poe reader.
Cantalupo was first enthralled by Poe's extremely dense and complicated prose poem, "Eureka," which she explored in her dissertation. In the years since, she has written extensively about Poe's love of beauty, most recently illustrated in the 2014 publication of "Poe and the Visual Arts" (Penn State University Press), the first book on this topic.
"'Eureka' presented a challenge, and I was determined to decipher it. The intellectual acumen Poe displayed in it was attractive to me as a scholar," she said. "My work has not been to dissuade people from appreciating the more well-known Gothic tales and poems, but to add something, another side, to the conversation."
Kopley found his way to Poe through a general love for the antebellum period of American Literature. During his studies he read the only novel Poe ever completed, "The Narrative of Arthur Gordon Pym of Nantucket," and was "knocked out by it."
"It's a fascinating sea narrative that becomes more strange and amazing as it goes on," said Kopley. "In fact, the last passage in the book is so mysterious and confounding, that it was removed from the version published in England, but has also been considered the greatest thing Poe ever wrote. To me, that was worth devoting years of research toward figuring out."
While each was developing their individual Poe research, they also began connecting with a community of other Poe scholars. Shortly after Cantalupo transferred to the Lehigh Valley campus, she began editing a four-page Poe newsletter that soon turned into a 24-page journal, "The Edgar Allan Poe Review." Both have continuously been active in the PSA (Kopley is a past president), which was established in 1972 and now boasts more than 250 members worldwide.
So what is it about this author that keeps people reading and re-examining his work?
"I think we all have a soft spot for him. He's the first writer we really 'got' when we sat in grade school or high school and read his short stories and poems," said Kopley. "He was no doubt a master at those macabre tales. He invented the detective story genre. And he did all of this and so much more by the time he died at 40 years old."
"I'd add that his work continues to challenge people's sense of who he is; it keeps people thinking," said Cantalupo. "Much of his work is prescient; it's still relevant."
For the masses, that legendary persona of the mad genius, dark and drunk with thoughts of death and despair, may persist. And in truth there was tragedy and low points in Poe's life. But there is plenty of evidence that there were great highs, even delight, in his short life.
And as they gather every four years to explore the many sides of Poe and his work face-to-face, Cantalupo, Kopley, and a host of Poe enthusiasts from around the world continue to provide ample ammunition to set the record on Edgar Allan Poe straight, evermore.
Contact
Allison Goodin
Director of Enrollment Marketing, Penn State Lehigh Valley