PPL Foundation presented $5,000 grant to support young entrepreneurs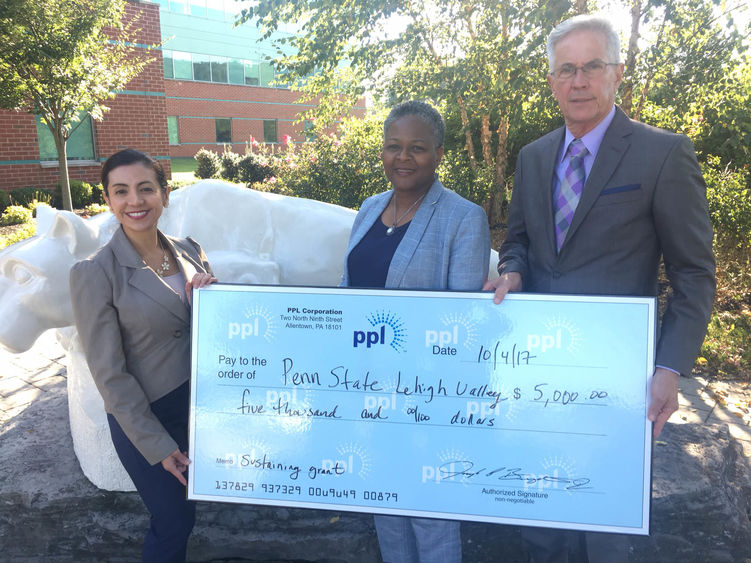 Penn State Lehigh Valley's innovation hub, Lehigh Valley LaunchBox, hosts an annual summer camp for rising high school juniors and seniors interested in the exciting world of entrepreneurship. For the past two years, the Teen Entrepreneurship Summer Challenge has inspired its participants to be the next generation of entrepreneurs. A grant to Lehigh Valley LaunchBox will help make this unique experience available to more area teens.
Penn State Lehigh Valley has received a $5,000 grant from the PPL Foundation for its Lehigh Valley LaunchBox Teen Entrepreneurship Summer Challenge.
"We firmly believe in youth development," said Carol Obando-Derstine, regional affairs director for PPL Electric Utilities. "Since we are so committed to education, we applaud the efforts of Penn State Lehigh Valley. This summer camp is a fantastic way to prepare tomorrow's leaders in the business sector."
Students learn key strategies for starting a business and how to develop an entrepreneurial spirit from Penn State professors, successful business leaders and student entrepreneurs. Upon completing the program, students are empowered to begin their entrepreneurial journey.
The Teen Entrepreneurship Summer Challenge gives students the opportunity to develop different perspectives, implement business ideas, connect to future employers, build a personal brand, learn about Lehigh Valley LaunchBox and other Invent Penn State initiatives, enhance technology skills, explore STEM educational programming and connect to Penn State people and students.
For more information about the Teen Entrepreneurship Summer Challenge, visit the Summer Challenge website, call 610-285-5111 or email [email protected]. To find out ways to support the program, contact David Yanoshik at 610-285-5118.
Contact
Dennille Schuler
Public Relations Specialist
Penn State Lehigh Valley