PSU-LV and The Perkiomen School hosted the challenge Jun. 19-30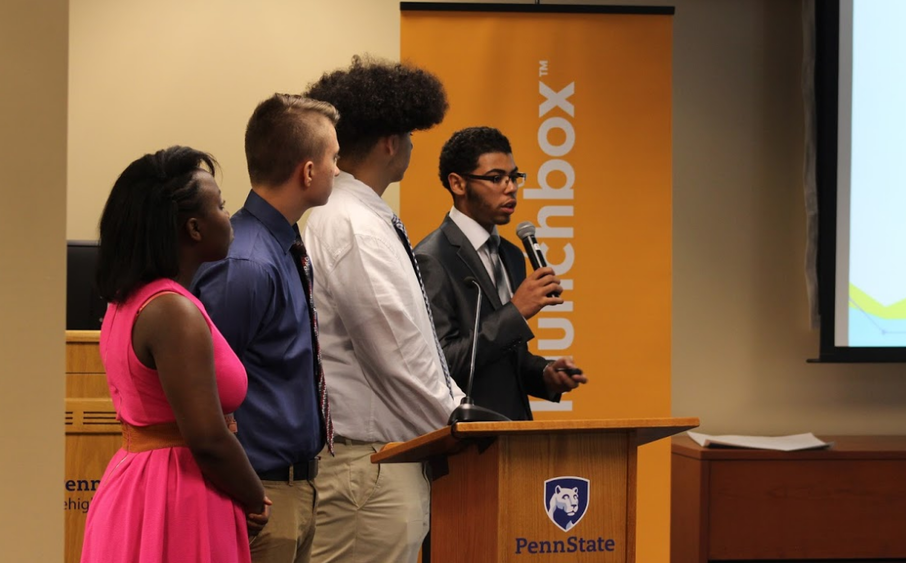 CENTER VALLEY, Pa. — The learning did not stop at the end of the school year for 17 local rising high school juniors and seniors.
Penn State Lehigh Valley and The Perkiomen School came together to host the Teen Entrepreneurship Summer Challenge, which is part of Lehigh Valley LaunchBox and the Invent Penn State initiative. The Summer Challenge ran from June 19 to June 30 at the Lehigh Valley campus, the Perkiomen School and the co-working space of Lehigh Valley LaunchBox in downtown Allentown. 
The Teen Entrepreneurship Summer Challenge gave students the opportunity to develop different perspectives, implement business ideas, connect to future employers, build a personal brand, learn how to apply for LaunchBox micro grants, enhance technology skills, explore STEM educational programming and connect to Penn State people and students. 
Summer Challenge field trips included:
Lehigh County Court House
Bracalente Manufacturing Group
City Center Lehigh Valley in downtown Allentown
Artistic Toys Manufacturing, Inc.
Penn State University Park campus
During their time, the students interacted with over 30 business leaders including:
Jon Akers, Lithium Cycle
Timothy McKown, president, Sky-Linx, Inc.
Judge Michele Varricchio, Lehigh County Court
Kaitie Burger, social media and communications manager, Discover Lehigh Valley
Rob Herring, owner, Herring Systems
Stephen Walker, entrepreneurship education specialist, Lehigh Carbon Community College
Scott Keaton, CFO, Bracalente Manufacturing Group
Briana Gardell, CEO, Mezzimatic LLC
Erik Latanision, group leader of manufacturing engineering, Bosch Rexroth
Jim Socci, president, Artistic Toy
Billy Kounoupis, owner, Billy's Downtown Diner
Jane Heft, vice president/director of project design and corporate branding, City Center
"I used to think entrepreneurship was boring, but this challenge changed my opinion. It was an experience unlike anything else. I am even thinking about pursuing PSU for my future," said Nathaniel Andino, a junior at Building 21.
"I wanted my students to do this for exposure. This summer challenge allowed students to be exposed, develop passions, and have experiences that will leave a lasting impression. I wanted them to think about life after high school," said Kristyn Senneca, pathways coordinator at Building 21.
Maung Ming, director of business programs at Penn State Lehigh Valley, led the curriculum for the summer challenge with support from Shaun Yorgey, director of the Entrepreneur Institute at the Perkiomen School; Denise Ogden, professor of marketing at Penn State Lehigh Valley; and Michael Krajsa, instructor in marketing and management at Penn State Lehigh Valley and faculty liaison for Lehigh Valley LaunchBox.
The event culminated in a pitch competition on June 29 at the Lehigh Valley campus where students presented their ideas for a new business in front of a panel of judges including Erica Berman, from Dude Solutions, Inc.; Hillary Long, from 3 Seed Marketing; Chris LaBonge, president of Adtell, Inc and Fiberoptic.com; and Shane McGee, from Air Products. 
Team ATS, comprised of Ali Abbas, Skyler Brown, Mia Min and Felix Presinal, won the pitch competition. The students first identified a problem: People with disabilities and seniors may have a hard time with certain everyday tasks. Their solution was to invent an automated transportation system (ATS) that will assist with these tasks and improve accessibility. Team ATS developed a robotic platform that seniors and those with disabilities can use to take out the trash, push a wheelchair, put groceries away and much more.
"The Teen Entrepreneurship Summer Challenge gave me the experience I needed to start my own business. The speakers were passionate and inspirational and I was able to see things from many perspectives," said Ryan Irr, a junior at Notre Dame High School.
When asked to create a hashtag to describe the summer camp, Irr said, "#TheGrindNeverStops."
The Teen Entrepreneurship Summer Challenge received support from a variety of corporate partners, including Bosch Rexroth, PPL, and The Downtown Allentown Community Development Initiative.