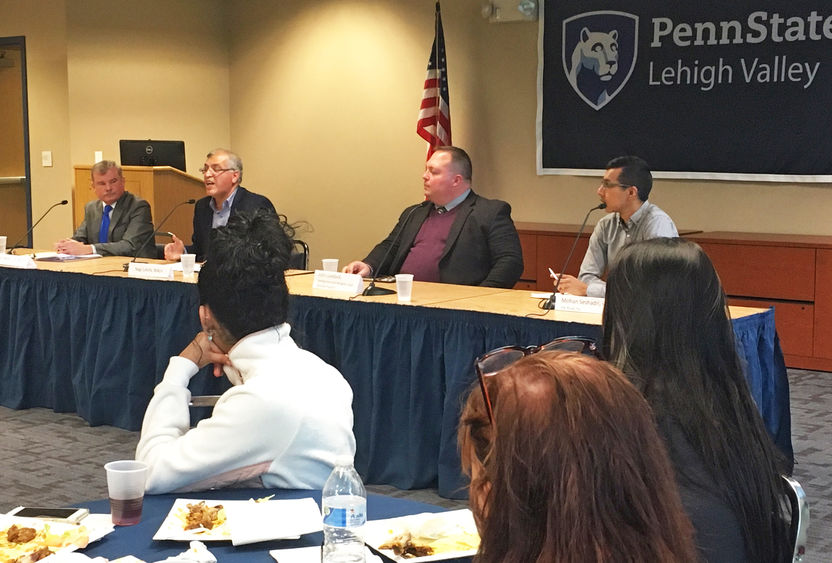 The impacts of changing U.S. policy on immigration was the topic at an open discussion panel attended by more than 70 students, faculty and staff on Nov. 1 in room 135 at Penn State Lehigh Valley.
The panel featured four advocates including Joseph Walsh, ACLU attorney and executive board member for Pennsylvania; John Leedock, director of immigration and refugees legal services program, Catholic Charities, Harrisburg; Nagi Latefa, former president of the Muslim American Association of the Lehigh Valley; and Mohan Seshadri of Make The Road Action, LGBT committee in Allentown.
"Having dedicated and knowledgeable leaders on campus provides a revealing window into current issues of significance," said Jennifer Parker, associate professor of sociology at Penn State Lehigh Valley, who organized the event. "We are a nation of immigrants. Our student body and wider Lehigh Valley community reflect this. It is important to understand what is going on so that we can help make a difference."
Walsh opened the discussion focusing on how immigrants play an influential role in the history of America and the constantly changing political spectrum. In addition, the panel discussed the importance of the Deferred Action for Childhood Arrivals program (DACA), and how it affects students. The program provides more than 800,000 immigrants the authority to work and study within the United States legally without the risk of deportation.
"Immigration is an issue of American values and is a constant repeating narrative throughout American history," Walsh said. "Immigrants, especially dreamers, are substantial in the social and political economy. Both thrive from different cultural perspectives and ultimately define the nation it is known as today – a nation of immigrants."
When asked the question of how to bridge the communication gap on the subject of immigration and policy reform, Seshadri noted the importance of storytelling.
"We can talk about facts and figures as much as we want, but the way that is most effective is by storytelling, because we all have a story to tell as to how each individual contributed to the history of America.
Sharing stories through multimedia outlets is one way we can promote change. It shows the humanity behind the message and the underlying issues or concerns that contributed to the decision to migrate," Seshadri said.
Tiffany Bonilla, a native of the Dominican Republic who immigrated to the Lehigh Valley as a child and now studies at Penn State Lehigh Valley, was grateful for the open discussion panel noting the significance of this event to students.
"It is really hard to see our nation divided right now. I believe by speaking openly about this and knowing why people migrate to America, we can learn to be more understanding of each other based upon our personal experiences."
This event was organized as part of the curriculum of some of the fall courses at Penn State Lehigh Valley. It was organized in the spirit of the "All In" initiative and was co-sponsored by the Committee on Inclusive Excellence. The "All In" campaign at Penn State is an on-going University-wide initiative that welcomes students, faculty and staff together to display their commitment by creating and maintain a diverse and inclusive atmosphere – one that is respectful of all values and beliefs, regardless of race, ethnicity, religion, age, sexual orientation, abilities, background, veteran's status and political beliefs.
For more information about the process of immigration and resources available in Pennsylvania, visit the ACLU PA website.
Contact
Dennille Schuler
Public Relations Specialist
Penn State Lehigh Valley