Event held in celebration of African American History Month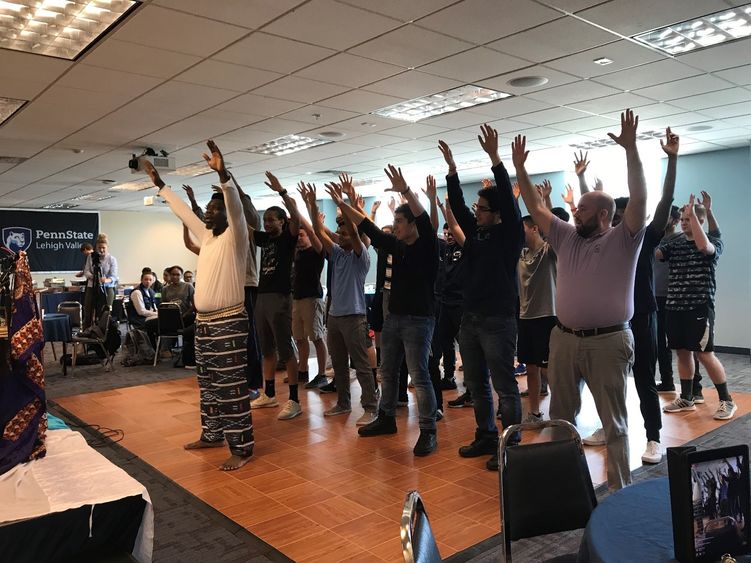 Students, faculty and staff joined the Nazu African Dancers to celebrate African American History Month on Feb. 21 at the Lehigh Valley campus. This event took place during common hour in order to allow everyone to participate while waiting for classes to start.
The dancers started off the performance by talking about what matters most to them, which is shared culture. One of the dancers then encouraged everyone in the room to sing and dance with them to celebrate their West African culture.
Many attendees seemed hesitant at first, but eventually everyone was dancing by the end of the event. The students danced to the beat of the bongo drums being played by the other dancers.
Almost everyone in the room gathered around the dancers to learn the dances. Throughout the performance, the dancers allowed the students to express themselves by doing moves and having everyone else follow them. The room was filled with laughter from the students participating.
In the end, all the students got into a group and took a photo with the dancers. The dancers wanted the students to learn about shared culture and feel happy.
"All In at Penn State" is an ongoing University-wide initiative that brings students, faculty and staff together to show their commitment to cultivating a diverse and inclusive environment — respectful of everyone regardless of race, ethnicity, religion, age, sexual orientation, abilities, background, veteran's status and political beliefs.
 
Contact
Dennille Schuler
Public Relations Specialist
Penn State Lehigh Valley