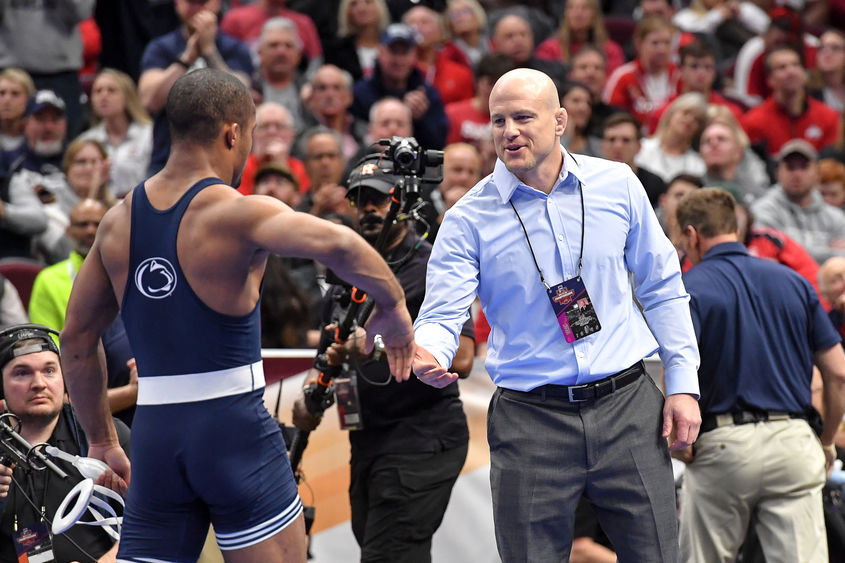 CENTER VALLEY, Pa. — Cael Sanderson, Penn State's head wrestling coach, will be the special guest of the Lehigh Valley Chapter of the Penn State Alumni Association on Saturday, July 28, at the Holiday Inn Conference Center in Breinigsville, Pennsylvania.
Attendees will be able to interact with Sanderson during a meet and greet from 1 to 2 p.m. He will share some remarks, followed by Q&A from 2 to 3 p.m., before another meet-and-greet session from 3 to 4 p.m.
The event will include a tailgate-style buffet and a silent auction. All proceeds will benefit the Penn State Lehigh Valley scholarship fund. Community members and wrestling fans are invited to attend.
"We are excited to host Coach Sanderson, who is a wrestling legend in his own right," said Diane McAloon, alumni relations director at the Lehigh Valley campus. "As coach, he has led Penn State wrestling to claim seven NCAA titles, all while crowning many individual champions. It will be a fun day for any sports fan."
Registration is required to attend the event and seating is limited. The cost to attend is $25 for Lehigh Valley Chapter members, $30 for nonmembers, and $15 for children 12 years old and younger. Register online at https://www.brownpapertickets.com/event/3463101?cookie_header=1. The Holiday Inn Conference Center is located at 7736 Adrienne Drive in Breinigsville.
For more information, contact Diane McAloon, alumni relations director, at [email protected] or 610-285-5066.
Contact
Dennille Schuler
Public Relations Specialist
Penn State Lehigh Valley