First-ever college baseball game held at Coca-Cola Park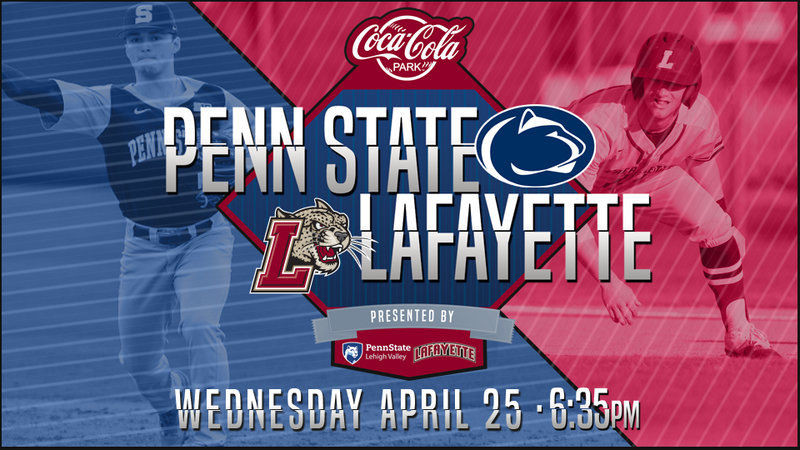 Penn State alumni and friends are invited to show their Penn State pride as the Penn State baseball team battles Lafayette College at the first-ever college baseball game in Coca-Cola Park, home of the Lehigh Valley IronPigs, at 6:35 p.m. on Wednesday, April 25.
Two ticket options are available. The ticket options for Penn Staters are sponsored by the Penn State Lehigh Valley Alumni Society and the Lehigh Valley Chapter of the Penn State Alumni Association.
Dugout suite option
Located directly behind home plate, fans will be as close to the action as possible with an amazing vantage point. The cost is $35 per person if paid by check, $40 if paid by credit card, and includes one ticket to the game and a catered meal in the suite.
Group seats in Penn State cheering section
The sections for these tickets include 107 and 108. These are located in a great part of the ballpark and will be packed with Nittany Lion fans. The cost is $11 per ticket.
"It would be great to have a strong showing from Penn Staters in the Lehigh Valley at this game supporting the Nittany Lions as they take on Lafayette," said Diane McAloon, alumni relations coordinator at Penn State Lehigh Valley. "We at Penn State Lehigh Valley are excited to be the hometown campus for this game and to show off our Penn State Pride on April 25!"
For more information or to purchase tickets, visit the registration website or contact Joy Reed, campus events coordinator, at 610-285-5082 or [email protected].
Contact
Dennille Schuler
Public Relations Specialist
Penn State Lehigh Valley