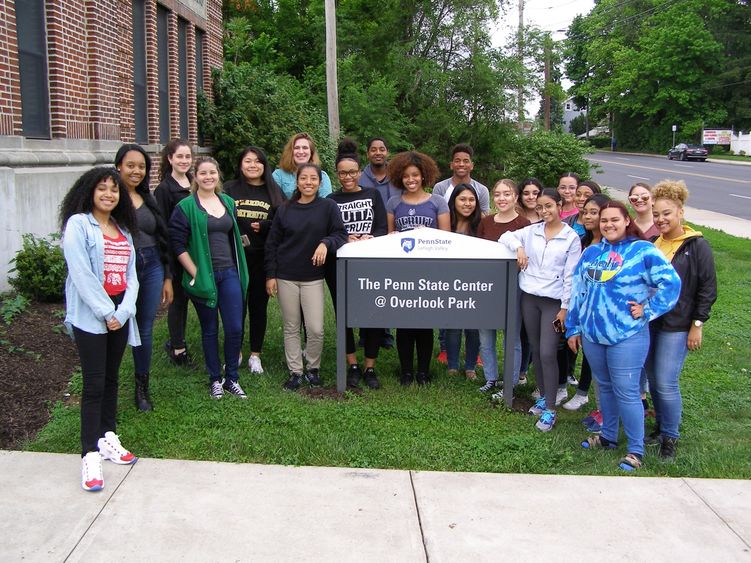 CENTER VALLEY, Pa. — While a senior at Louis E. Dieruff High School in Allentown two years ago, Jermaine Jones was a Nittany Lion sports fan who was interested in possibly attending Penn State someday. When he learned about the Penn State Lehigh Valley Pathway to College and Career Readiness Program (PCCR), Jones found it appealing that he could transfer credits earned his senior year of high school to Penn State, so he applied.
PCCR is a comprehensive program that addresses the academic needs and employment skills development of low-income, in-school high school students. The program works with about 30 high school seniors a year who attend Dieruff, Liberty or Freedom high schools, with funding provided by Career Force and the Lehigh Valley Workforce Development Board. Penn State Lehigh Valley has run PCCR since 2013 and has graduated more than 120 students from the program.
"The College and Career Readiness Program helped me a lot," said Jones. "It helped me build a strong resume, it helped me with my public speaking skills, and it made the transition to college much easier."
Every Tuesday and Thursday night during the last four months of his senior year, Jones would travel to the Penn State Center at Overlook Park in Allentown to participate in workshops, draft and edit his resume, prepare speeches, and learn how to do research.
"I enjoyed how they would break us up into groups to work on speeches together," Jones said. "It helped us get to know each other since many of us went to different schools and feel comfortable with getting to know new people."
Upon completing the program, Jones decided to apply to Penn State Lehigh Valley. He just finished his first year as a health policy and administration major, with a minor in psychology.
"So far I am really enjoying Penn State Lehigh Valley. It is just seven minutes from home. It is smaller and everyone has been helpful. My adviser, Samantha Beebe, is great and Dr. Anita Yuskauskas is helpful. I feel very supported," said Jones. "My first year was a great eye-opening experience for improving my studying habits, along with helping me fine-tune a couple other things. With the great staff at Penn State Lehigh Valley, I was able to hone in on what I needed to fix. I'm really excited to start my second year and continue with all the positivity from Penn State Lehigh Valley."
Jones had an eventful first year at the Lehigh Valley campus. During the spring semester he did a short-term study abroad program over spring break. He and 15 other students traveled to Denmark from Feb. 28 to March 11 to explore health and health care systems. This short-term study abroad program was presented by the biobehavioral health and health policy and administration degree programs. Beebe, coordinator of the biobehavioral health program, and Yuskauskas, coordinator of health policy and administration, led the trip.
They visited local health care sites, including Dementia Village in Svenborg, and the Maersk Building at the University of Copenhagen, and had a personal presentation by the director of the Danish Medical Association. Students also toured the Louisiana Museum of Modern Art, where they saw an exhibit of Picasso's ceramic work; a canal boat tour and coastal train ride to North Zealand to visit Kornberg and Frederiksborg castles; toured Christiania Village; and took a day trip to Malmo, Sweden.
"We got to visit a dementia village in Denmark, along with the University College. We also visited the Danish Medical Association and learned about their policies and customs," said Jones. "It was an amazing experience. It was one of the first times I ever left the country, and I would go back in a heartbeat."
The students were exposed to different cultural and social norms. Students observed how active the Danish people are, and how their infrastructure supports healthy behavior, including bicycling and walking for transportation.
2018 cohort of PCCR
Twenty-four high school students participated in the latest cohort of PCCR. These students are recruited to participate in the program. They have to be seniors in good academic standing and qualify for free or reduced lunch.
The program includes an opportunity to earn college credits when they complete their public speaking coursework, as well as a monetary incentive if the student shows proficiency. If they graduate high school and plan their next step, they are awarded an additional monetary bonus. Upon graduation, the students participate in a 15-hour per week internship program for three weeks. Past students have interned at The Palace Restaurant, the City of Bethlehem's Public Works Department, Valley Youth House, and Sweet Indulgence Café, to name a few.
Natalie Stewart has served as a PCCR career adviser since 2015. She also works as a guidance counselor at Liberty High School.
"All of the PCCR instructors have day jobs, but are committed to these students. Yes, it is a long day, but this is fun work," said Stewart. "Because of cost and income level, the program is grant funded and transportation is provided, so all of the barriers are gone for these students. PCCR gives them access to college-level work for free. They are graduating ahead of the game with job prep, tips on how to dress for success, and great resumes."
One of the participants this year was Selena Martinez, a senior at Liberty High School from Bethlehem. PCCR was just one of many pre-college programs she participated in to get ahead.
"I wanted to do this program to expand my network and use it as a step forward. I don't want to go into college blind," said Martinez, who took another college class at Northampton Community College and graduated high school with seven college credits total.
She plans to attend Florida Southwestern State College in January after moving to Florida to help care for her grandmother. Martinez wants to major in graphic design and one day own a screen printing business.
The PCCR Student Showcase and Closing Ceremony was held on June 18 at the Lehigh Valley campus. Students heard from PCCR instructor Michael Garrison, along with two student speakers, Petrina Lindo from Dieruff High School, and Mia Mclendon from Liberty High School. Both students thanked sponsors, school districts, counselors, teachers, families and professors.
"This program meant getting a head start and being able to build a network early," said Mclendon.
She is planning to attend Kutztown University and after that wants to attend law school and become a defense attorney. At least 17 of the 24 students who completed PCCR this spring have been accepted to college.
"To all the high school students who are considering the program, I would encourage them to do it," Jones said. "Meeting new people and learning about public speaking all made it a great experience, plus it really prepared me for college."
Sean Kelly from Penn State Lehigh Valley served as the PCCR program coordinator. Garrison, Sandy Kile, and Susan Hughes served as instructors. Stewart served as a career adviser. Stephanie Barry served as a counselor, and Trish Balestrini served as a program assistant.
Contact
Dennille Schuler
Public Relations Specialist
Penn State Lehigh Valley