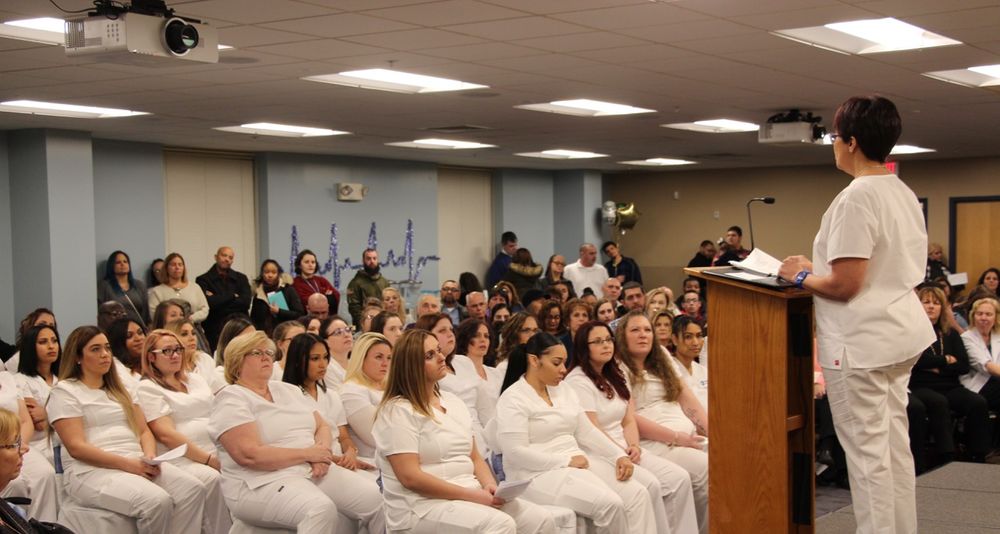 CENTER VALLEY, Pa. — Penn State Lehigh Valley practical nursing graduates marked the successful completion of the program during a ceremony on Tuesday, Dec. 18, at the Lehigh Valley campus. Thirty students completed the requirements to earn a certificate in practical nursing and will be eligible to test for the National Council Licensure Examination-Practical Nurses exam.
The class began its studies in July 2017 for the 18-month program offered in the evening and on weekends in the classroom and laboratory at the Penn State Center @ Overlook. Students took classes at Penn State Lehigh Valley and attended clinical studies at area partner facilities.
Chancellor Tina Q. Richardson presided over the ceremony along with Practical Nursing Program Director Heather L. Clark. Guest speaker for the event was Jane Hoff, an instructor at Penn State Lehigh Valley and a certified nurse midwife.
During the ceremony, graduates received their certificates and pins to signify successful completion of the program.
Graduates and their hometowns included Jaleesa Angulo, Coplay; Janel Bullard, Emmaus; Mellisa Butler, Easton; Ashley Byard, Allentown; Iraida Candia, Allentown; Dana D"Agostino, Pen Argyl; Melody Demaiori, Allentown; Diane Eck, Whitehall; Morgan Elder, Easton; Ashley Haas, Bethlehem; Ana Jorge, Allentown; Judy Keating, Richlandtown; Rebecca Kresh, Allentown; Elizabeth Livingston, Allentown; Abigail O'Connell, Bethlehem; Caridad Osorio, Allentown; Kaitlyn Pavlacka, Emmaus; Michelle Perez, Emmaus; Amber Pressley, Perkasie; Chemary Prickler, Allentown; Olga Rivera, Easton; Von Marie Rodruqez, Allentown; Scarlet Roman, Whitehall; Stephanie Roque, Allentown; Amber Smith, Whitehall; Christopher Stewart, Bethlehem; Sheyla Torres, Bethlehem; Heyshla Torres Gonzalez, Bethlehem; Lauren Vogel, Schnecksville; and Denise Wright, Allentown.
Several members of the graduating class also earned special recognition with an award. The awards and winners included:
Academic Achievement Award, which is presented to the student who continuously strived to maintain high grades in test taking, class projects and presentations. This award was presented to Elizabeth Livingston.
Chancellor's Leadership Award, which is presented to the student who has displayed integrity and maturity as they represented and influenced the class in a positive way. This student demonstrated leadership qualities and made the classroom and clinical environment a better place for everyone. This award was presented to Judy Keating.
Most Inspiring Student Award, presented to the student who was able to grow, flourish and inspire the people around them throughout the program. This student faced challenges yet excelled despite the odds. They set wonderful examples of perseverance and determination and served as a role model to others. This award was presented to Iraida Candia.
Most Compassionate Award, presented to a student who demonstrates empathy, respect and dignity along with a certain intelligent kindness as they cared for their patients. Although compassion is expected from nurses, this student was known for theirs. This award was presented to Stephanie Roque.
Geriatric Excellence Award, presented by Country Meadows to the student who displayed excellent care and compassion for the geriatric population. This award was presented to Sheyla Torres.
Penn State Lehigh Valley is now accepting applications for its August 2019 practical nursing program. An information session for the practical nursing program will be held at 4 p.m. on Monday, Jan. 21. It will be held at the Penn State Center @ Overlook Park, located at 445 Hanover Ave. in Allentown.
For more information, contact Heather Clark, director of the practical nursing program, at [email protected] or 610-841-0359. For more information on the program, TEAS testing dates and how to apply, visit the practical nursing program website.
Contact
Dennille Schuler
Public Relations Specialist
Penn State Lehigh Valley