Annual day of service spent at St. James UCC Church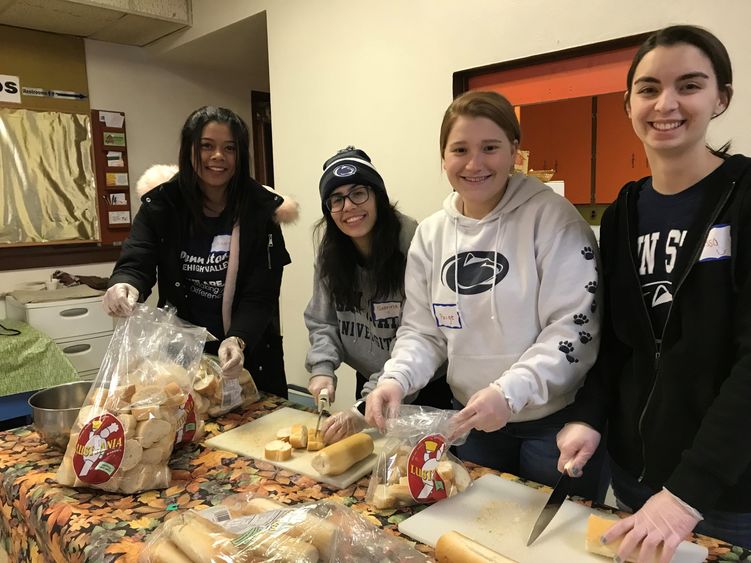 More than 10 students and staff from Penn State Lehigh Valley (PSU-LV) devoted their time on Jan. 21 in honor of Martin Luther King Jr. Day to prepare and serve meals for more than 75 people at the St. James UCC Church in Allentown, Pennsylvania. Martin Luther King Jr. Day is recognized as the annual day of service by the Office of Student Life, an ongoing tradition that focuses on community service.
The event featured a Thanksgiving-themed luncheon and remarks from special guest Bill White, columnist for The Morning Call, and Jeramiah D. Lyons, Boys & Girls Club of America 2018 Northeast Regional Youth of the Year.
White and Lyons shared their stories about helping others, as well as Martin Luther King Jr.'s important message and his impact on American history.
"Martin Luther King Jr. Day is an important day for our campus to help in the Lehigh Valley community by giving back," said Pam Fleck, assistant director of Student Affairs at PSU-LV. "Volunteering here gave us the opportunity to immediately see the impact of our help from the local community and see how much they appreciated the meal and the chance to socialize and celebrate the holiday."
For Jenny Tran, junior biobehavioral health major and president of the Community Heroes Club at PSU-LV, Martin Luther King Jr. Day means getting the community together to celebrate diversity.
"We are currently living in a time where racism is very prevalent," said Tran. "To see the community come together and respect one another no matter who they are is really refreshing and heartwarming."
Tran, who spent the morning preparing and serving meals with her fellow students reflected on the importance of volunteering and what it means to her.
"Volunteering is important to me because there are many people in tough situations that are less fortunate than most," said Tran. "I believe that if you have the ability to give back and lend a helping hand to those who need it, why not?"
"All In at Penn State" is an ongoing University-wide initiative that brings students, faculty and staff together to show their commitment to cultivating a diverse and inclusive environment — respectful of everyone regardless of race, ethnicity, religion, age, sexual orientation, abilities, background, veteran's status and political beliefs.
Contact
Dennille Schuler
Public Relations Specialist
Penn State Lehigh Valley