Campus Engagement Committee Scholarship Award winners announced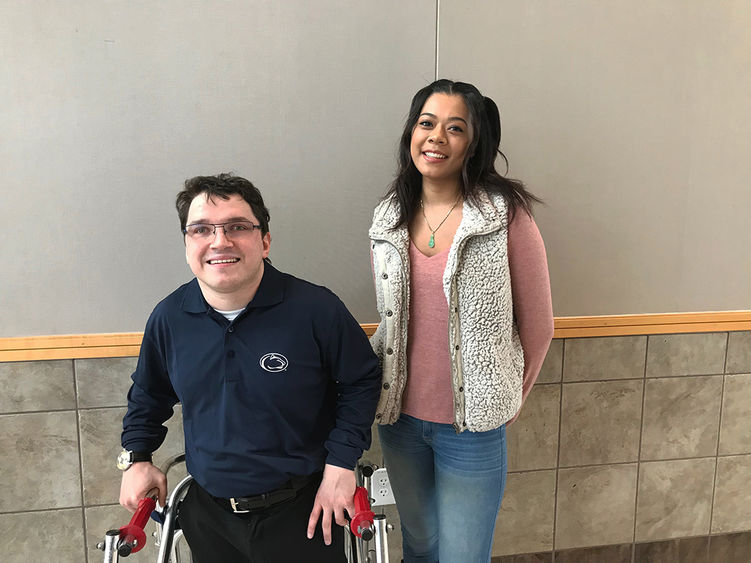 CENTER VALLEY, Pa. — The Penn State Lehigh Valley Campus Engagement Committee (CEC) — formerly known as the Lehigh Valley Commission for Women — awarded scholarships to two Penn State Lehigh Valley (PSU-LV) students in December. The recipients of the CEC Achieving Student Award were selected by the scholarship committee of the Campus Engagement Committee for their demonstrated leadership and accomplishments on campus and/or in their local communities. Each student was awarded a $500 scholarship. PSU-LV faculty, staff members and community members were invited to nominate a student for this award. Students could nominate themselves as well. The nominees then had to submit an application detailing their achievements.
The Penn State Lehigh Valley Holiday Party held on Dec. 14 featured a silent auction benefiting the Campus Engagement Committee and the scholarships that the Committee distributes to worthy PSU-LV students.
The two students who received a Campus Engagement Committee Achieving Student Award for the 2018-19 academic year are:
John Lahutsky, senior corporate communication major
Lahutsky is president of PSU-LV Lambda Pi Eta, the National Communication Honor Society. Through this he has facilitated several community service projects, including a stocking stuffer drive for homeless veterans, working at local family centers and animal rescue farms, and food drives for Second Harvest Food Bank. He is a member of the troop committee for Troop 362 Minsi Trails Council, Boy Scouts of America, as well as serving as a board member and as an assistant coach for the Miracle League of Northampton County. Lahutsky is also a member of the National Slovak Society, Assembly RO59, a fraternal organization that raises funds for local, national, and international charities.
"John is the embodiment of student service. He would never and has never called attention to his physical disability, even when faced with physical labor during his volunteer work at soup kitchens, homeless shelters and even Humane Societies. He tries to do all the same activities as his peers, including standing hours on end and lifting heavy objects," said Kasey Hudak, assistant professor of corporate communication, Penn State Lehigh Valley. "I have never even heard him complain. He truly is a role model of tireless and thankless service. His hard work and dedication to PSU-LV and our surrounding communities is truly inspirational."
Lahutsky plans to use the scholarship award for his tuition costs.
"This provides relief for me financially and it shows how much Penn State cares about its students and gives them every advantage to success," Lahutsky said. "I have loved my time at Penn State Lehigh Valley. It is a wonderful place to grow and mature. Professors are great and have given me a great education and experience."
Jenny Tran, junior biobehavioral health major
Tran is president of the Community Heroes Club on campus and spends time organizing volunteer opportunities and service activities for club members and fellow students, including a mental health awareness project, park cleanup and service work. Tran also serves as vice president of the Health and Human Services Society on campus. Through this role she provides members with information, events and opportunities in health and human services fields. Tran is a member of the Honors Society at the Lehigh Valley campus, and she participated in the New Student Welcome and Be a Part from the Start events on campus.
"As staff adviser for Community Heroes, I have seen Jenny first-hand take the lead in recruiting members to the club, finding community service programs for students, leading meetings and doing any work on behalf of the club outside of meeting times. She has shown great initiative in being one of the first leaders in this newly re-started club," said Tara Koller, academic advisor, Penn State Lehigh Valley. "Jenny is an outstanding student and leader on our campus. She has really blossomed this year as a leader. I see her making the Community Heroes club a priority and helping others. Jenny has plans to go into the Peace Corps upon graduation prior to medical school, and she certainly has the drive to make that happen."
Tran plans to use her scholarship award for her tuition costs.
"As someone who is funding my education on my own, scholarship dollars are so helpful. I was anxious and reluctant when I first came to campus, but now I have eased in, established good relationships with my professors and got involved on campus through the Community Heroes Club," Tran said. "I love inspiring others to volunteer!"
Contact
Dennille Schuler
Public Relations Specialist
Penn State Lehigh Valley