Health Policy Administration degree prepares grads to work for Lehigh Valley's largest employer: Health Care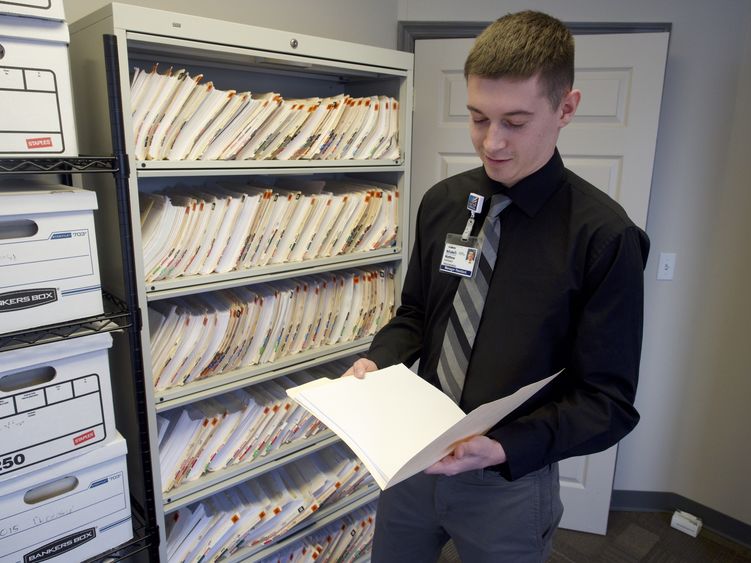 Matt Rohrbach (class of 2018) originally came to Penn State Lehigh Valley intending to do the 2+2 program and graduate from University Park with a degree in finance, but after his first year, the campus launched a degree in Health Policy and Administration (HPA). Rohrbach, a Whitehall native, recognized the huge demand for health care-related jobs in the Lehigh Valley and debated a change of plans.
"It made sense for me for many reasons, because of future job prospects, because I could save more money by living at home while staying at Penn State Lehigh Valley all four years, and because I could benefit from the small campus size and from the great interactions with my professors," Rohrbach said.
Rohrbach started his year-long residency program as a practice manager resident at St. Luke's Medical Associates of Bethlehem shortly after graduating. In the program, Rohrbach is learning about all of the aspects related to running a medical practice. Rohrbach learned about the residency program from Anita Yuskauskas, HPA program coordinator and HPA instructor at Penn State Lehigh Valley.
"I owe a lot to Dr. Yuskauskas. Not only was she a great adviser, but her connections in the field and the program's connections exposed me to St. Luke's. I obtained an internship in finance at St. Luke's the summer before my senior year, and then another one during my last semester, which I think helped strengthen my application to the residency program."

-- Penn State alumnus Matt Rohrbach
"Matt was an outstanding student, who was motivated to use his education in a targeted way to realize his career goals," Yuskauskas said.
Rohrbach credits his education at Penn State Lehigh Valley with preparing him for this experience. Rohrbach is one of five total residents, and he is one of three residents who are right out of college.
"The residency program is hands-on. I am learning to create a team atmosphere between the doctors and staff. I am learning how to listen, understand, and implement the best action for the patients. I feel like everything I learned at Penn State Lehigh Valley is clicking throughout this experience," Rohrbach said. "I highly recommend this residency program. It's a fantastic opportunity to gain management skills and can lead to a variety of career paths."
During his residency, Rohrbach reports to Kelly Flack who is a practice administrator.
"HPA is a great fit in the Lehigh Valley with the growth and development in medical practices and other health-related careers. HPA graduates are prepared to work in this field," Flack said. "Matt excels in acquiring new management skills and responsibilities. His education gave him a strong foundation to work in this career and it's been a great opportunity to mentor him in this program."
The HPA program at Penn State Lehigh Valley has a strong partnership with the Professional Association of Health Care Office Management (PAHCOM). PAHCOM offers training and facilitates student interactions with a wide variety of professionals throughout the Lehigh Valley. And the Lehigh Valley is a significant player in the health care industry, as the largest employer in our area. Rohrbach said he benefited from attending the PAHCOM meetings and was able to network and meet mentors. Through this, Rohrbach was able to land an internship and then apply to the residency program at St. Luke's.
"The HPA major allows students like Matt to pursue a wide variety of interests in health care," Yuskauskas said. "We believe that we serve a need in our communities. Penn State's HPA students are prepared to fill positions in a wide variety of health care settings. We are eager and willing to join forces so industry and education can work as close partners to serve the Lehigh Valley."
Now that Rohrbach has graduated and is out in the community he realizes the power of his Penn State degree.
"While at Penn State Lehigh Valley, I participated in the HPA club and I made some friends that I know I'll have for life. I also graduated into a community that is like no other," Rohrbach said. "The strength of the Penn State community is unmatched and there is a huge networking system of Penn Staters all over."
Contact
Dennille Schuler
Public Relations Specialist
Penn State Lehigh Valley