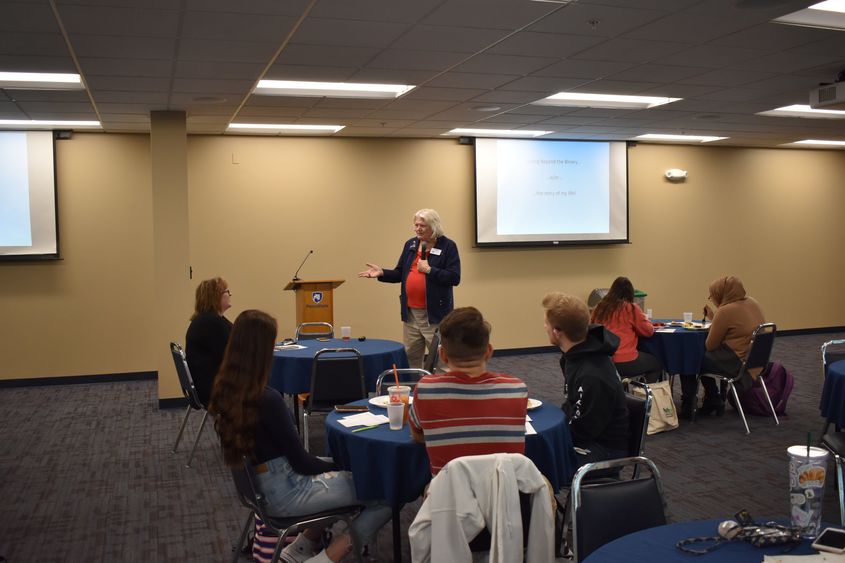 CENTER VALLEY, Pa. — Air Force Vietnam Veteran and Past President of TransCentralPA Joanne Carroll reflected upon the process of transitioning from male to female for about 40 students, faculty and staff on Apr. 17 at Penn State Lehigh Valley. The event was hosted by Student Affairs to continue celebrating April as PRIDE month.
Prior to transitioning, Carroll was bullied at a young age because she preferred to spend time with girls over boys. Carroll said she attempted to fit in with her former identity by wearing male attire.
"I knew there was something going on when I was four years old," said Carroll. "At Christmastime, my girl cousins were dressed in their Mary Janes and pinafores and opening tea sets, and I was wearing a vest and Brogans, getting cannons and tractors. I knew that something was wrong with that picture."
According to Carroll, it was not until 1952 when George Jorgensen came back from Denmark as a woman named Christine that she became aware of transgender people. On Feb. 15, 2001, she transitioned to her life as a woman and received full support and acceptance from her mother, a conservative Christian woman.
Carroll also provided students with statistics about suicide attempts among trans people. She was asked what advice she would give trans people currently facing bullying and discrimination.
"Don't take it quietly. Talk to somebody about it and seek help," Carroll said.
Carroll spends her time now providing care and support for trans people, as well as provide advocacy for the trans community. She is a commissioner on the Pennsylvania Commission for LGBTQ Affairs and is the past president and past vice president of EqualityPA.
She serves as a member of the Governors' LGBT Working Group, the Millersville University – President's Commission on Gender and Sexual Diversity, and is a past member of the PA Medical Society LGBT Health Disparities Task Force. She also is a member of the Transgender American Veterans Association and a co-chair of the Keystone Conference, "A Celebration of Gender Diversity."
Contact
Dennille Schuler
Public Relations Specialist
Penn State Lehigh Valley