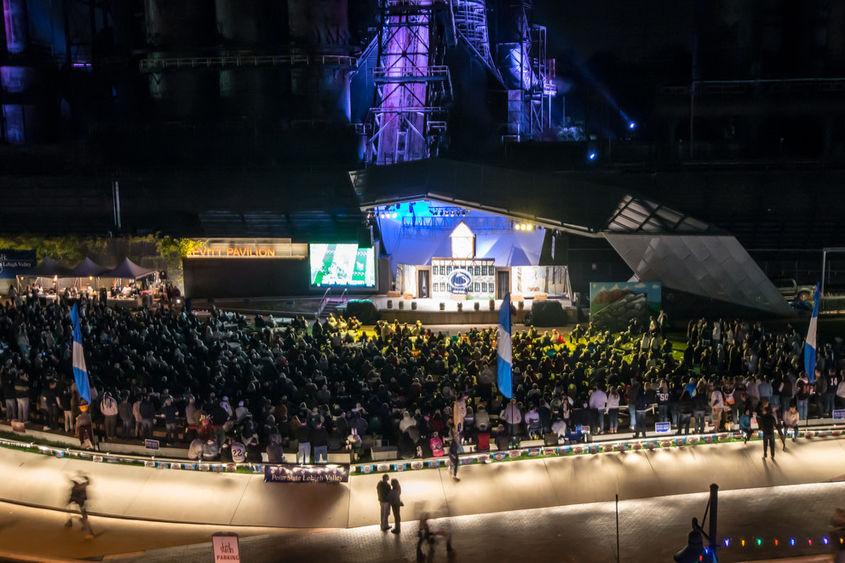 CENTER VALLEY, Pa. — Penn State Lehigh Valley alumni, students and community are invited to campus to celebrate their Penn State pride during the third annual WE ARE Lehigh Valley Homecoming Week. Events will be taking place around the Lehigh Valley during the week of Sept. 23.
Below is a list of fun, family-friendly events for the Penn State community. Follow Penn State Lehigh Valley on Facebook, Twitter and Instagram for updates on all events.
Monday, Sept. 23
Pep Rally — 12:15-1:15 p.m., Penn State Lehigh Valley
Kick off Homecoming week with a lively Pep Rally in Centre Hall. This event is free and open to the public.
Tuesday, Sept. 24
Penn State Lehigh Valley Men's and Women's Soccer Game — 2 p.m. and 4 p.m., Penn State Lehigh Valley
The first 100 Penn State Lehigh Valley students who attend the soccer games will receive a Homecoming Week T-shirt provided by Student Affairs. Soft pretzels and lemonade will be served, sponsored by the Office of Development. This event is free and open to the public.
Thursday, Sept. 26
Happy Hour and Food Truck Night at Cave Brewing, 5-7 p.m., Cave Brewing Company, 3300 Lehigh Street, Allentown
Come out to meet fellow Penn State alumni while enjoying this nano brewery cultivating Artisan Ales and Lagers. Free gift for the first 40 alumni who attend. Cash bar and food available to purchase from food trucks. Open to the public. To register, visit the event registration website.
Annual Blue and White Society Bash, 4-6:30 p.m., Penn State Lehigh Valley
This picnic-style event is open to all Lehigh Valley students and is held on campus near the Lion Shrine. It features music, food and games in true Penn State spirit in celebration of Lehigh Valley's Homecoming Week. This event is open to current students only.
Friday, Sept. 27
Penn State vs. Maryland football game, 8 p.m., ArtsQuest - Levitt Pavilion SteelStacks
Can't make it to Maryland for the big game? No problem — gather your friends and family to watch the Nittany Lions take on the Terrapins on the big screen at Levitt Pavilion. Refreshments available for purchase; no registration required. This event is free and open to the public.
Saturday, Sept. 28
Charity Car Show, Photos at the Lion Shrine and Tours of Campus, Penn State Lehigh Valley
Come enjoy our beautiful campus in Center Valley with a variety of activities including:
Professional Photos at the Nittany Lion Shrine — Cost for photos is $50 per session. Time slots run from 10 a.m. to 1 p.m. This includes the sitting fee with a professional photographer, and 10 fully edited photos ready for print that will be delivered digitally. This is a great idea for holiday gifts and holiday cards. Register and book your time at the photo registration website.
Tours of our campus as part of Penn State Day Fall Open House. Tours are offered every half hour starting at 10 a.m. departing from Centre Hall.
The Penn State Lehigh Valley Car Club's Fall Charity Car Show: Cars of all eras will be on display from 11 a.m. to 1 p.m. Open to the public. This event supports PA Wounded Warriors and the student Car Club.
Contact
Dennille Schuler
Public Relations Specialist
Penn State Lehigh Valley