The event was presented by Factory, LLC and Penn State Lehigh Valley LaunchBox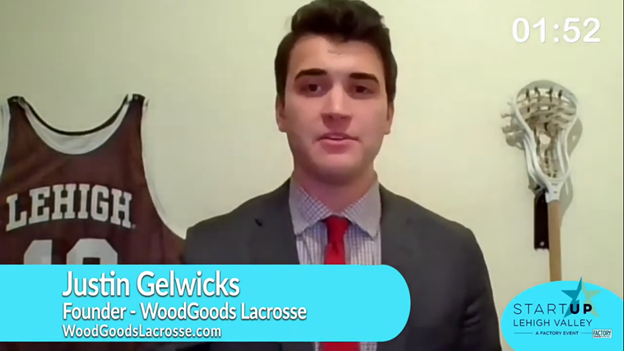 Ten entrepreneurs, selected to participate through an application process, presented a virtual, two-minute live pitch with their business ideas to the panel of judges and virtual audience in a lively shark-tank style event moderated by Richard Thompson, managing partner at Factory, LLC and former CEO of Freshpet, at the second annual StartUp Lehigh Valley virtual event presented by Factory, LLC and Penn State Lehigh Valley LaunchBox. Participants had a chance to win an award that was part of the $10,000 in prize money from event sponsor Penn State Lehigh Valley LaunchBox. JPMorgan Chase & Co. also served as an event sponsor.
Following each live pitch, the judges had one minute to ask questions. The panel of judges included Annette Durnack, director of business development for Penn State Lehigh Valley LaunchBox; Tony Salvaggio, founder & CEO of Computer Aid, Inc. in Allentown; and Matthew Bilsky, founder & CEO of FLX Solutions, Inc. and 2019 StartUp Lehigh Valley winner.
The virtual audience was invited to judge the pitches via a smartphone app for the Audience Choice Award while the judges determined the rest of the award winners.
Justin Gelwicks, WoodGoods Lacrosse received the grand prize of $3,500 and the Audience Choice Award of $1,000 for high-quality wooden lacrosse sticks that are durable as well as flexible. Gelwicks is an undergraduate student at Lehigh University.
Jonathan Epstein, JTJ Tech, LLC received the second-place prize of $2,500 for providing an innovative solution to pipe freeze in sprinkler systems. Epstein participated in the first Virtual StartUp Bootcamp hosted by Lehigh Valley LaunchBox (LVLB), a six-week program that wrapped up at the end of September. The bootcamp program is designed to help entrepreneurs with a scalable business idea turn it into an actionable business plan.
Wesley Hart, Verde Mantis, LP received the third-place prize of $1,500 for "the world's easiest-to-use 3D printer."
LaunchBox Boost Awards of $500 went to:
Ray Valentin, Aeria Pro for innovative professional window cleaning products from a 10-year professional window cleaner.
Amit Parmer, Cliquify Inc. for AI-powered software that helps recruiters and candidates convert their job specifications and resumes into visually engaging social media content.
Justin Slusarski, Quarbon for an environmental and social impact scorecard connecting consumers with businesses that are making a positive impact.
"Penn State Lehigh Valley LaunchBox is pleased to partner with Factory, LLC to recognize aspiring entrepreneurs, provide monetary prizes and connect the winners with the extensive LauchBox network of resources," Durnack said.
Through Lehigh Valley LaunchBox, entrepreneurs gain access to Penn State Entrepreneur Assistance Law Clinic, Penn State Intellectual Property Law Clinic, business accelerator programs, mentoring, advisory services and networking resources as well as free co-working space at Velocity, a City Center property in Allentown. StartUp Bootcamp is a new six-week program offered free of charge that is designed for people who want to take their business to the next level or for those with a business idea who need to develop a business plan. The bootcamp, which has no fee, will be offered annually or possibly twice a year. Participation is by application only and open to any Pennsylvania-based entrepreneur.
Contact
Dennille Schuler
Public Relations Specialist
Penn State Lehigh Valley