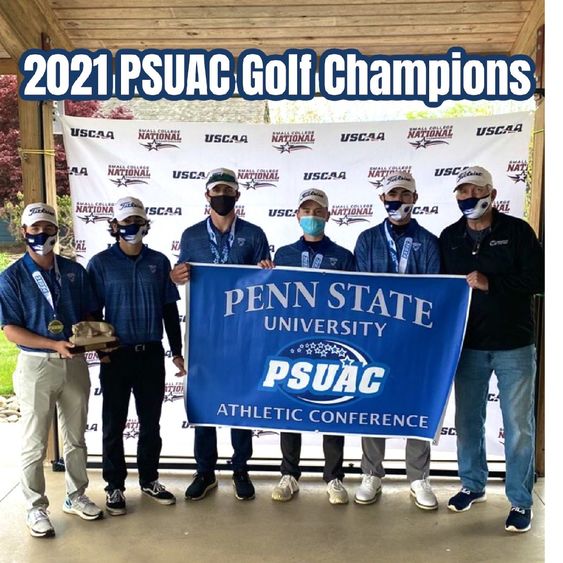 The Penn State Lehigh Valley golf team waited 12 months to get back into playing action and did it in winning fashion as they captured the 2020-21 Pennsylvania State University Athletic Conference (PSUAC) Golf Championship at University Park's Blue Course from May 9-11. Lehigh Valley shot a score of 672 over two rounds. Penn State Brandywine was the runner up with a score of 722. Lehigh Valley also placed fifth out of eight teams in the United States Collegiate Athletic Association (USCAA) National Invitational that was taking place simultaneously alongside the PSUAC Championships.
The team was led by Ian Masenheimer with a score of 160. Anthony Sawarynski 161, Nick Herman 173, Connor Nelson 178 and Gabe Juaregui rounded out the scoring for Penn State Lehigh Valley. Head Coach Brain Exton brings home four championships in his last eight seasons at the helm. Masenheimer, Sawarynski, Herman and Nelson were all named to the PSUAC All-Conference Team as they all finished in the top 10.
Follow PSU-LV Athletics on Instagram @PennStateLVAthletics and Twitter @PennStateLVAthl.