First-ever athlete to accomplish this in campus history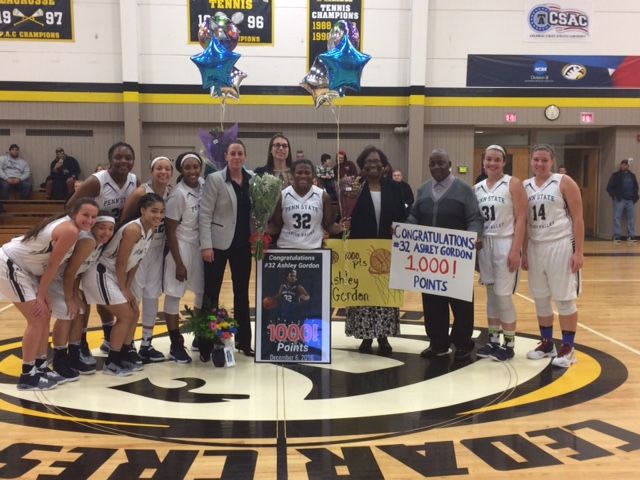 Ashley Gordon, a senior at Penn State Lehigh Valley, tried out for the women's basketball team four years ago as a way to get involved.
"I wanted to feel connected and be involved while in college and basketball was a way for me to feel like I am a part of something," said Gordon.
Gordon became the first athlete at Penn State Lehigh Valley to ever score 1,000 points. She scored her 1,000th point during a game against Penn State Mont Alto on Dec. 6 at Cedar Crest College in Allentown.
"Going into the game I was feeling a lot of emotions. My coach had told me I was just 14 points away," said Gordon. "I was excited, nervous and happy."
It was during the second quarter that Gordon achieved this milestone and she knew instantly she had just made history.
"I knew it was that basket because right before the second quarter started a teammate told me, 'You know you are only one basket away!'" said Gordon. "I was really happy. I couldn't have done this without the support of my teammates, coaches, family and friends."
Gordon wound up scoring a total of 26 points that game and the team defeated Mont Alto 96 to 50.
Gordon has been a starting player for all four years since the program's inception either as a shooting guard or a forward. While playing basketball in college, Gordon has learned many skills that benefit her both on and off the court.
"I probably have learned the most about time management by having to balance practice, our night games and all the travel with my school work," said Gordon, who will graduate in May 2017 with a degree in corporate communication and minor in business.
She credits her parents for their support and for encouraging her to work hard. While Gordon played when she was at Freedom High School in Bethlehem, she said she did not foresee this sort of success in college.
"I didn't score as many points in high school and was not expecting this coming into college," said Gordon. "It's bittersweet that it is my senior year, but we aren't done yet. The next step for the team is to make the PSUAC Championships. We have gone to the semifinals, but have fallen short. I think we have the right team this year."
Gordon said she hopes they clinch the championship and can move on to nationals. The sky is the limit for this shooting superstar.
"We couldn't be happier for Ashley to achieve this incredible milestone. There is so much commitment, sacrifice, dedication and hard work that goes into this accolade. Ashley has been one of the most versatile players for us; she can do it all, handle the ball, drive, shoot, post up, rebound," said Lorie Khalil, head women's basketball coach and coordinator of athletic programs at Penn State Lehigh Valley. "Every team member has contributed to this as well by either an assist, a rebound or a steal. This is a memory that will last a lifetime, but we are hoping to create more memories by building upon our 7-0 start to the season. We have a lot of basketball left and want to focus on one game at a time and give it all our heart and hustle."
The team will next play during the Moravian's Roosevelt's 21st Greyhound Classic Tournament. Their game is at 2 p.m. on Friday, Dec. 30 at Moravian College in Bethlehem.
Follow Penn State Lehigh Valley Athletics on Instagram @PennStateLVAthletics and Twitter @PennStateLVAthl.
Contact
Dennille Schuler
Public Relations Specialist
Penn State Lehigh Valley