Andrea Watkins becomes first junior to accomplish feat in campus history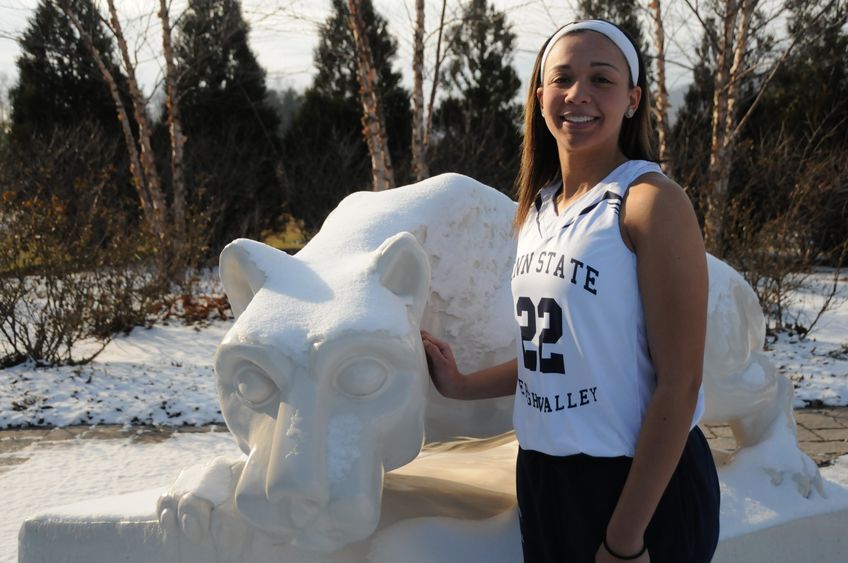 CENTER VALLEY, Pa. — With an outstanding performance on Jan. 5 at Lehigh Carbon Community College, Andrea Watkins became the second — and fastest — player to reach 1,000 career points in the history of Penn State Lehigh Valley women's basketball.  
Watkins, a junior rehabilitation and human services major, joined the basketball team because of the passion she has for the game. That passion has been the driving force in her reaching the 1,000-point milestone in just two and a half seasons with the team.
"I was super nervous coming into the game. My whole family was there watching, and I knew the girls were excited," said Watkins. "I felt relieved after scoring it. A lot of pressure was lifted off my shoulders."
Luckily for Watkins, her nerves did not have to last long. She scored her 1,000th point just three minutes into the game.
Watkins wound up scoring 13 points total in the game, and the team earned an 80-48 victory over Lehigh Carbon Community College.
Watkins has been a starting player since she was a first-year student. She credits her success in school to being a part of the basketball team.
"I know that if I do not perform well in the classroom I cannot be on the court with my team. I used to be quiet and not ask many questions, but being a part of the team has made me come out of my shell more," said Watkins. "Coach naming me as a captain is a big reason why I have become more vocal as well. Being a leader requires me to talk more."
Watkins has many future goals for herself and the team. She hopes the team will win the conference championship and the national championship this year. Upon graduation, she would like to start a career in occupational therapy.  
"We are so proud that Dre has reached this milestone, and her only being a junior is a testament to the commitment, sacrifice, dedication and hard work that goes into achieving this," said Lorie Khalil, head women's basketball coach and coordinator of athletic programs at Penn State Lehigh Valley. "She has been a valuable piece to this program's success. She has received awards in each of her years that have been firsts in Penn State Lehigh Valley history. Her freshman season she was named Rookie of the Year, her sophomore season she has been named Co-Player of the Year, and now her scoring her 1,000 points as a junior, we are looking forward to adding one more achievement to Dre's list and that's a conference championship. The sky is the limit for her and for this team."
The team will next face Penn State Greater Allegheny at 6 p.m. on Jan. 20 in McKeesport.
Follow Penn State Lehigh Valley Athletics on Instagram @PennStateLVAthletics and Twitter @PennStateLVAthl.