Tina Q. Richardson named as one of the 2017 Take the Lead Award recipients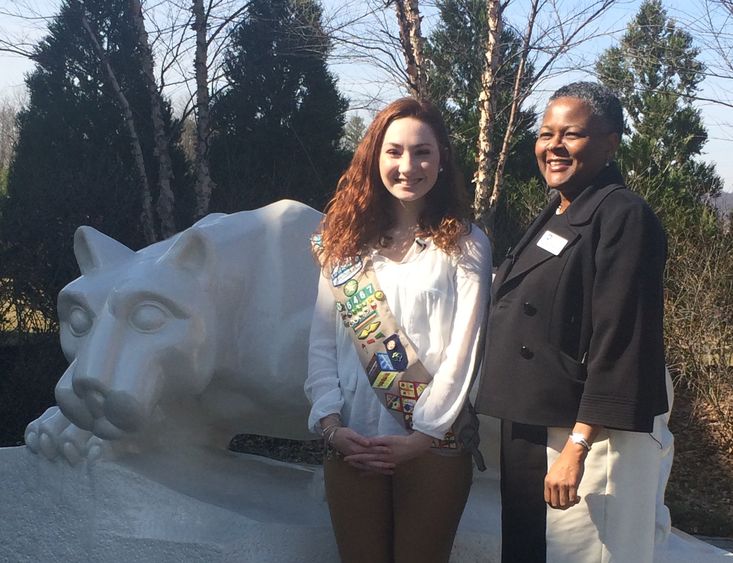 CENTER VALLEY, Pa. — Girl Scouts of Eastern Pennsylvania (GSEP) is hosting its annual Take the Lead Lehigh Valley event, where it will recognize four distinguished women from the community, including Penn State Lehigh Valley Chancellor Tina Q. Richardson.
The three other honorees include: Pamela DeCampli, executive vice president, Kirby Bates Associates; Nancy Dischinat, executive director, Lehigh Valley Workforce Development Board; and Marci Ronald, executive vice president, United Way of the Greater Lehigh Valley.
The Take the Lead Lehigh Valley honorees will be celebrated at a special Girl-Scout-led ceremony on April 25, at the Sands Event Center in Bethlehem. The event highlights GSEP's mission to build girls of courage, confidence, and character, while honoring women leaders whose work and achievements exemplify these values.
Richardson is honored to be recognized by the Girl Scouts in this way.
"As a Girl Scout growing up in Maryland, I was exposed to so many opportunities to try new activities, develop curiosities and a passion for helping others. I learned to be courageous enough to try new things and to be innovative in responding to challenges. The Girl Scouts organization has this impact on all girls -- that is why so many women leaders have been scouts!" said Richardson.
Unique to GSEP, Take the Lead enables girls and women from the community to forge long-lasting mentoring relationships designed to teach girls the skills they'll need to become the leaders of tomorrow. Girl Scout McKenzie H., a Southern Lehigh High School sophomore, spent Feb. 28 shadowing Richardson to see what a day in the life is like for a chancellor.
"When McKenzie shadowed me recently, I had a chance to meet one of the dynamic young leaders of today and future leaders of tomorrow. I was assured that we will be in great hands! The Girl Scouts organization truly makes a difference in shaping the lives of girls."
Contact
Dennille Schuler
Public Relations Specialist
Penn State Lehigh Valley