The first-year and sophomore student team competed against juniors and seniors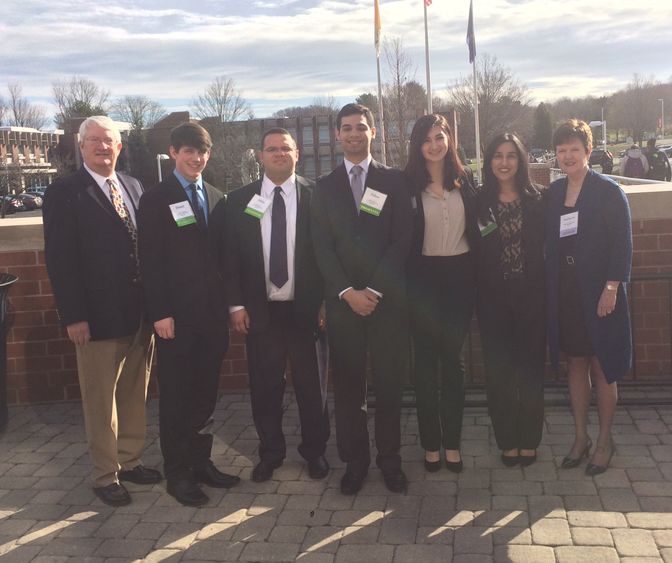 After two months of preparation, a Penn State Lehigh Valley debate team placed second in the Fleming Ethics Bowl Competition held March 30 at DeSales University. The goal of the Ethics Bowl is to help students learn about current business ethics. Students present problems and solutions on an ethical issue to a panel of judges consisting of current business executives.
The Penn State Lehigh Valley team consisted of Ethan Vazquez, sophomore business marketing major; Dan Jalosinski, first-year information sciences and technology major; Naseeba Saeed, sophomore corporate communication major; Julius Sarkozy, first-year political science major; and Jackie Khalil, first-year marketing major.
The students competed through multiple rounds to make it to the end. For the first round, the students prepared a 20-minute presentation on whether they would bid on a self-driving car or not. Using ethics for their decision, each student presented a section of their argument. After the judges questioned the team about their argument, they then advanced to the second round. In the second round, the team was given less than an hour to come up with a new presentation. After presenting the new argument and going through another round of questioning by the judges, the Penn State Lehigh Valley team was awarded second place. Lafayette College was awarded first place and Penn State Berks was awarded third place.
The five student team members credited their success to their teamwork and support from Sandy Kile, team adviser and instructor in communication arts and sciences at Penn State Lehigh Valley, and Richard Kile, business coach.
"We could not have done this without the continuous support and motivation from Sandy Kile and her husband, Richard Kile. Throughout our preparation for this competition, we have become a family. We all trusted each other and believed that we could achieve this and we have. It was an unbelievably challenging, yet fun, experience that I will remember forever. We were proud to represent Penn State Lehigh Valley," said Saeed.
"This team was a perfect combination of professionalism and composure. Every member brought a valuable asset to the table and a diverse set of skills, but unanimity in goals is what made us successful. In addition, winning second place was a great feeling because we made Professor Kile and Mr. Kile proud, and of course we got to bring a trophy back home to Penn State Lehigh Valley where it belongs," said Jalosinski.
Being one of the youngest teams, the Penn State Lehigh Valley debate team was proud of their success.
"They are first-year students and sophomores who competed against juniors and seniors from other universities. They worked so hard for two months in preparation for the competition. Their success for themselves and for our campus is of great pride.  They were the epitome of intelligence, class and graciousness," said Kile.
Lehigh Valley students interested in future debate opportunities should reach out to their business or communication instructors.
Contact
Dennille Schuler
Public Relations Specialist
Penn State Lehigh Valley