'Still Paving the Way for Madam President' takes a look at the female pursuit of the U.S. presidency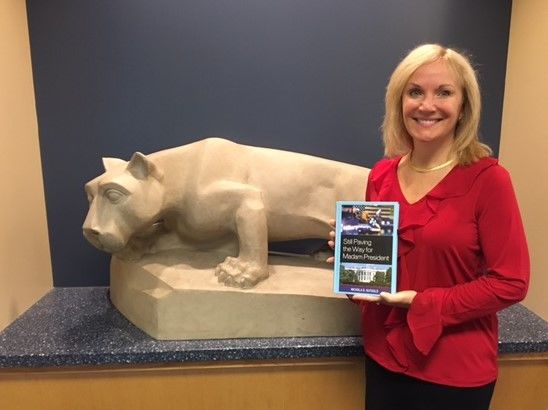 CENTER VALLEY, Pa. — Women in politics have made great advances in the past decade, yet there is a long way to go. For over 10 years, Nichola Gutgold, professor of communication arts and sciences at Penn State Lehigh Valley, has continued her research and writing to revamp her 2006 book, "Paving the Way for Madam President."
"Still Paving the Way for Madam President" (Lexington Books, 2017) provides a follow-up on the progress women have made in politics, specifically towards the U.S. presidency. Additionally, a section on Hillary Clinton's race for the presidency in 2008 and 2016 have been included. Gutgold reviews the struggles women candidates face and what it will take to overcome these struggles.
The idea to write a book originally came to Gutgold in 1999 as she was completing her dissertation for her doctorate in speech communication at Penn State.
"I discovered Elizabeth Dole in 1999, the same year she ran for president. Dole was involved in politics, as was her husband, who ran for president in 1996. I noticed she spoke at his convention and did not mention any of her own accomplishments; she just spoke of his masculine attributes. She knew what she had to say, she was a public speaker. I knew there was more to this story and I wanted to know who Elizabeth Dole was. When she ran for president, media headlines read, 'The first viable female bid.' I thought this was wrong, I knew there were other female candidates in the past who should not be forgotten, which led to "Paving the Way for Madam President."
"Still Paving the Way for Madam President" tells the stories of Margaret Chase Smith, Shirley Chisholm, Patricia Schroeder, Elizabeth Dole, Carol Moseley Braun and Hillary Clinton, six of the most acknowledged women who have run for president since 1964. Gutgold interviewed these women, or those close to them, for the majority of her research. She also conducted her research through tapes and video, and attended events such as the 2016 Democratic National Convention.
Writing these books and making an impact have meant a lot to Gutgold. Though a woman has won a presidential nomination, she says the United States "is not there yet" with women in politics. From 1964 when Smith ran for president, to 2016 when Clinton ran for president, there are many of the same issues keeping women from winning the presidential race.
"My goal for writing on this topic is to keep the conversation going. We have not had a woman president yet and women deserve to be in the history books," said Gutgold. "I have a passion to amplify the voices of those who may not have been heard. I want to encourage people to be non-traditional, whatever that means."
Gutgold has published many books on the topic of women in politics, including:
· "Paving the Way for Madam President" (Lexington, 2006)
· "Seen and Heard: The Women of Television News" (Lexington, 2008)
· "Almost Madam President: Why Hillary Clinton 'won' in 2008" (Lexington, 2009)
· "Gender and the American Presidency: Nine Presidential Women and the Barriers They Faced" (Lexington, 2012)
· "The Rhetoric of Supreme Court Women" (Lexington, 2012)
· "Women in the Academy: Learning from our Diverse Career Pathways" (Lexington, 2012)
She has also written a children's book, "Madam President: Five Women Who Paved the Way."
Gutgold hopes to impact her students with her books and research.
"My job as a professor is to help students achieve their ambitions. I am happy to interest students in research and to involve students in my research. I have taken students on interviews with me, I have started a research project for students at the Schreyer Honors College, and most recently I have been invited to present my research on women and the U.S. presidency to the students of the University of Zagreb in Croatia this fall," said Gutgold.
Gutgold dedicated "Still Paving the Way for Madam President" to her students, hoping that they can follow their path, even if it is still unpaved.