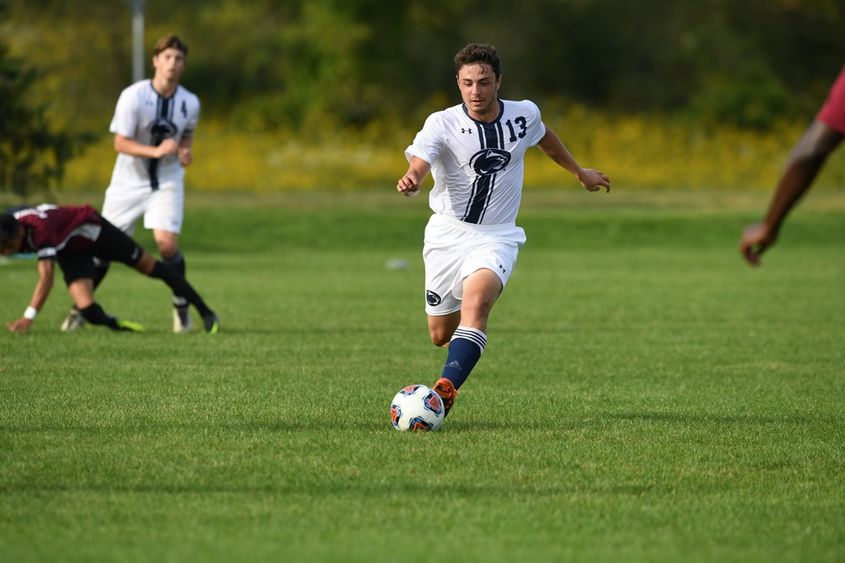 Women's Volleyball outlasts Penn State Hazleton, 3-1
The Penn State Lehigh Valley Women's Volleyball team improved to 6-3 and 2-1 in PSUAC play with a 3-1 match victory over host Penn State Hazleton Sept. 27 in Hazleton.
Lehigh Valley handled Hazleton the first two sets winning 25-18 and 25-19, but a wild set three went to Hazleton outlasting Lehigh Valley winning 34-32. Lehigh Valley regained momentum and put Hazleton away for good with a 25-6 fourth set victory.
Sophomore Ebony Sanders dominated the net with 20 kills. First-year student Kaitlyn Waskowitz chipped in with 6 kills and freshman Bobby Tubbs had a game-high 25 helpers.
Women's Volleyball splits in tri-match
The Penn State Lehigh Valley Women's Volleyball team split in a home PSUAC tri-match with Penn State Hazleton and Penn State DuBois Sept. 30 at Cedar Crest College. With the split, Lehigh Valley improves to 7-4 overall and 3-2 in PSUAC play.
In the first match of the day against Hazleton, Lehigh Valley handled the visitors in 3 sets winning with scores of 25-10, 25-16 and 25-17. Sophomore Ebony Sanders and first-year student Kaitlyn Waskowitz each contributed 9 kills apiece. First-year student Tori Urbas led Lehigh Valley with 9 assists.
Lehigh Valley had a break in between matches as DuBois defeated Hazleton in 3 sets. Lehigh Valley battled DuBois in the final match of the day, but DuBois' aggressive attack at the net and accurate serving proved to be too much for Lehigh Valley, losing all 3 sets by scores of 25-14, 25-19 and 25-13. Sanders had a team-high 8 kills while Waskowitz chipped in with 5 kills. Urbas contributed with 6 helpers.
Golf places 9th at Moravian Invitational
2017 Moravian College Fall Invitational
Team Score — 345 (9th out of 12)
Individual Scores
Brian Zinman 76
Nick Engelman 77
Evan Fahs 84
Jacob Danko 108
Randy Weldon 109
Golf Places 1st at University Park White Course
Team Score - 313 (1st out of 9 PSUAC teams)
Individual Scores
Brian Zinman 71 (Medalist)
Nick Engelman 73
Evan Fahs 81
Jacob Danko 88
Randy Weldon 93
Liam Ross 95
Jared Neders 97
Soccer downs Williamson, 2-1; Salama and Semet with goals
The Penn State Lehigh Valley Soccer team had a key road win over host Williamson Trade School Sept. 27 in Media, Pennsylvania.
The Lions jumped out on top with a goal by Majed Salama at the 18:54 mark of the first half. The goal, which occurred via a major mix-up by Williamson's defense, lasted throughout the rest of the first half.
The Mechanics struck back however, on the strength of a goal by Tim MacFarland from 35 yards out at the 33:17, to tie things up a 1-1.
The score remained tied until the 17:22 mark until Charles Semet scored the game winning goal for the Lions.
Lehigh Valley will return to action Oct. 4 for a match-up with Manor College at 3:30 p.m. at Penn State Lehigh Valley.
Follow Penn State Lehigh Valley Athletics on Instagram @PennStateLVAthletics and Twitter @PennStateLVAthl. Sign-Up for Athletic Text Alerts at http://psulehighvalleyathletics.com/list-signup.