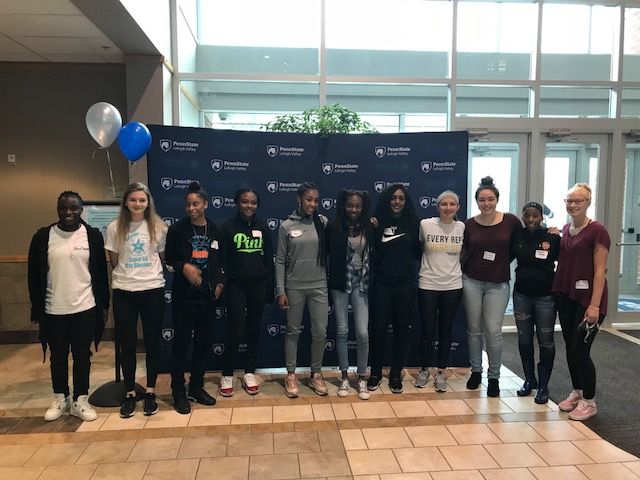 Golf places 12th at Muhlenberg Invitational
2017 Muhlenberg College Invitational Results from Oct. 2:
Team Score: 345 (12th place out of 18 teams)
Individual Scores:
Nick Engelman 80
Evan Fahs 80
Brian Zinman 82
Liam Ross 103
Randy Weldon 113
Women's volleyball defeats Penn State Worthington Scranton, 3-1
The Penn State Lehigh Valley women's volleyball team improved to 8-4 overall and 4-2 in PSUAC play with a win over Penn State Worthington Scranton, 3-1 on Oct. 3, in Scranton.
Lehigh Valley started strong and won the first set 25-12, but Scranton answered back with a set two win 25-20. Lehigh Valley regained momentum to seal the deal with the next two set victories 25-14 and 25-19. Sophomore Ebony Sanders continues to lead the way with a game-high 23 kills.
Soccer comes up short to Manor College, 2-1
The Penn State Lehigh Valley soccer team fell short to visiting Manor College, 2-1, on Oct. 4, in Center Valley.
Manor held a one goal lead at halftime and scored another goal mid-way through the second half to keep Lehigh Valley at bay. First-year student CJ Semet scored the lone Lehigh Valley goal with three seconds remaining in the game to put LV on the board.
Follow Penn State Lehigh Valley Athletics on Instagram @PennStateLVAthletics and Twitter @PennStateLVAthl. Sign-up for athletic text alerts at http://psulehighvalleyathletics.com/list-signup.