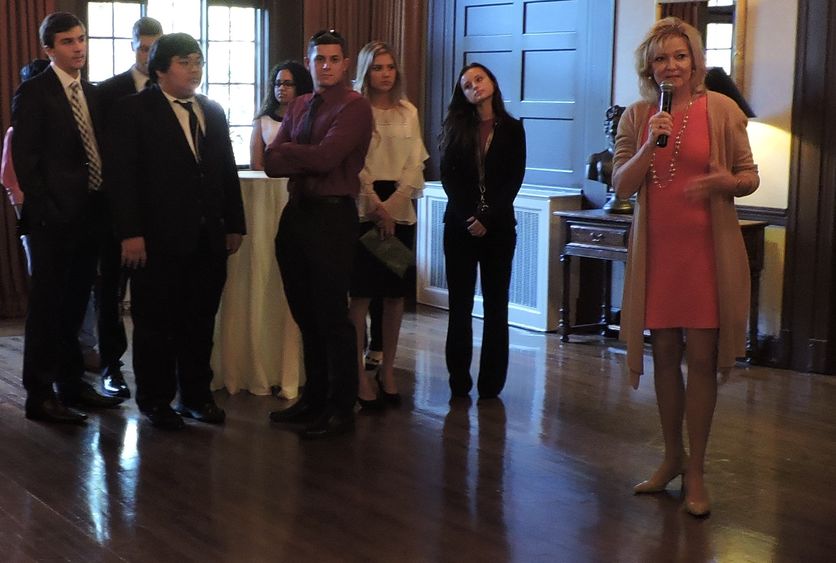 CENTER VALLEY, Pa. — First impressions are important, especially in a world where communication is shifting from traditional to electronic exchange. More than 60 Penn State Lehigh Valley students learned the significance of these methods during the annual etiquette dinner held on Oct. 25 at the Lehigh Country Club.
The event stressed the importance of appropriateness across cultures within a professional dining setting. It featured fine cuisine, proper business attire and how first impressions distinguish individuals from one another.
Diane McAloon, interim director of alumni relations and community outreach at Penn State Lehigh Valley, organized the event for students in the hopes they would gain confidence in a non-intimidating atmosphere, in order to prepare them for a variety of settings in their future careers. The event also provided an opportunity to network with local professionals.
The event featured special guest speaker, Sheryl Trower, and her business partner, Duffy Johnson, both of the Etiquette School of Central Pennsylvania. Both explained the significance of proper conduct across different cultures, and what is acceptable within a business setting.
The evening opened with a "Mocktail" hour, where Trower discussed how to properly handle refreshments when being approached by others, and how to consider the surroundings and current events when engaged with others.
"Various cultures have different forms of protocol which define etiquette; these protocols are the underlying guidelines which define how we conduct ourselves. As culture evolves, etiquette does as well," said Trower.
Trower discussed proper professional attire for men and women, including what colors are appropriate for certain situations, the amount of makeup, jewelry and proper grooming habits.
"The purpose of etiquette is not to be fancy, it's about being appropriate to make others feel comfortable by being considerate of the individual's cultural background," said Johnson.
After the dinner, students networked with local employers and alumni to discuss potential internship and employment opportunities in relation to their fields of study.
The event was made possible by corporate partners and individuals, including the Penn State Lehigh Valley Student Activities Fee; Bill Hacker of Arbor Insurance; Terry DeGroot of Terraform Engineering; Susan Johnson; Tom and Cindy Hess; Shane McGee; and Penn State Lehigh Valley faculty and staff.
For more photos from the event, visit the Nittany News website.
Contact
Dennille Schuler
Public Relations Specialist
Penn State Lehigh Valley