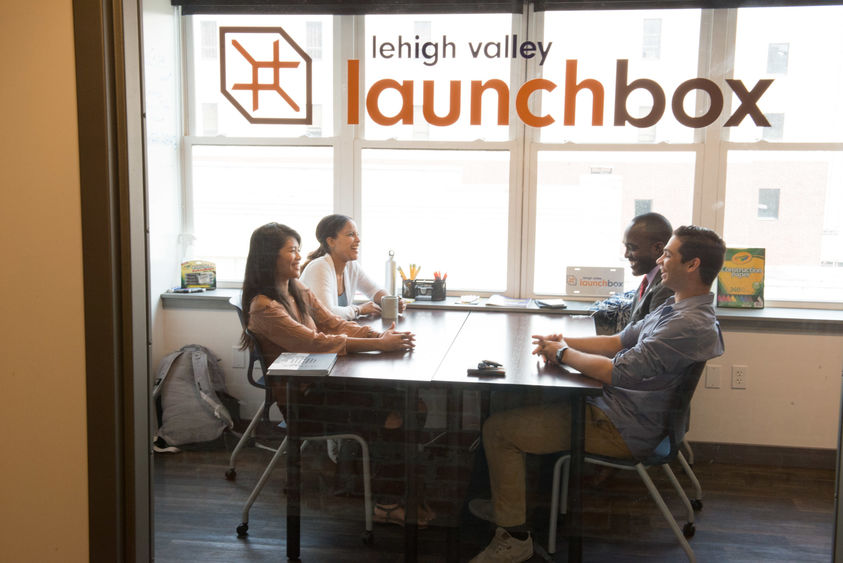 The Portfolio Committee of the Advisory Board of Lehigh Valley LaunchBox (LVLB), a University- and community-sponsored business accelerator program for early stage entrepreneurs, awarded microgrants to five new companies in May.
Interested entrepreneurs and startups apply online and pitch their businesses to a selection committee biannually in the spring and fall. All Lehigh Valley community members, including high school students and Penn State faculty, staff and students who have a scalable business idea, are encouraged to apply. The number of projects selected depends on the number of applicants and the amount of funds requested. More than 45 portfolio projects are already active as part of LVLB.
"We continue to be impressed and excited by the unique concepts and products submitted to Lehigh Valley LaunchBox," said Tina Q. Richardson, chancellor of Penn State Lehigh Valley. "Our campus and the advisory board remain committed to encouraging and supporting entrepreneurship throughout the Lehigh Valley."
Spring 2018 awards include:
VentureScape and escape.exe brings a fundamental twist to the escape room experience in the Lehigh Valley. Using unique perspectives coupled with computer systems expertise and extensive gaming history, they deliver an unmatched experience and story.
Linguistiq The Language Boutique provides Spanish to English translation, interpretation and language education services to individuals and businesses in both the public and private sectors. Their goal is to eliminate language barriers by making information understandable and accessible in all situations.
Sewing With Jirah offers individual and group sewing lessons in a judgment-free environment where you are encouraged to ask questions and feel free to make mistakes. You choose your fabric and pattern and leave the final lesson with a completed garment.
Unfyltered Media's focus is to identify points of friction that hinder the ability of the everyday person to live an effective life, and empower them to listen, think critically and act effectively to change their situation as voters, taxpayers and leaders. Through corporate partnerships and cohort audiences, they will grow capital, create jobs and give back to community initiatives that improve the lives of people through myriad methods.
Founded in 2018, this memoir creation company offers a variety of written and audio life-story preservation services. Co-founders Lisa Petrocelli and Maria Canfield believe that everyone has a story to tell, and that the process of preserving a life story should be easy, fun and affordable.
"We are thrilled to welcome these five new projects to our portfolio of 45 companies," said LVLB Advisory Board Chair Chris LaBonge. "We look forward to providing them with the resources they need to succeed, including mentors and free legal assistance."
Applications are evaluated on the criteria below:
scalable business model
team commitment
technical readiness
market awareness
existing or potential intellectual property
connection to community engagement
Grant recipients receive additional benefits such as free co-working space in Allentown and at the Penn State Lehigh Valley campus; free legal and patent assistance; mentorship from local entrepreneurs or an advisory board member; free professional development opportunities; and a one-year free Lehigh Valley Chamber membership.
LVLB is a signature program of Invent Penn State created to connect entrepreneurship-focused academic programs, business startup training, funding for commercialization, and university-community collaborations to spur future economic development, job creation and student/career success.
For more information, visit the Lehigh Valley LaunchBox website, email [email protected] or email Valerie Peters at [email protected].